Meet Jude Bellingham's Parents: Mark Bellingham and Denise Bellingham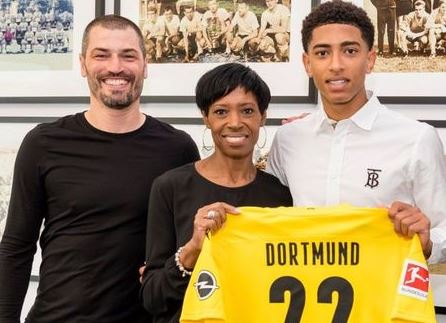 Quick Facts of Mark Bellingham and Denise Bellingham
View
Jude Bellingham is an English footballer who is currently signed to the Bundesliga club Borussia Dortmund and plays as a midfielder. Moreover, he is also a part of the English National Team.
The 19-year-old teenager has already won the hearts of many football fans around the world and is expected to be included in Gareth Southgate's English team at the FIFA World Cup 2022 in Qatar.
While people are well known about his prolific career and skills, very few are aware of his childhood, family, and other personal stuff like, Who are Jude Bellingham's Parents? What was his childhood like? Check this out.
Jude Bellingham's Parents
Jude is the son of his mother, Denise Bellingham and father, Mark Bellingham. He comes from a mixed race as his father Mark is European while his mother is African.
Jude Bellingham's father currently works as a police officer in the market town of Stourbridge, England. He is a sergeant in the West Midlands Police.
But very few people know that Mark used to be a football player in the early days. He played 20 years as a prolific non-league striker.
Bellingham Sr. was a goal-scoring machine who played for various non-league clubs like Stourbridge, Halesowen, Bromsgrove, Leamington and Sutton Coldfield and scored more than 700 goals until his retirement in 2017.
In 2009, Jude's father scored 48 goals to secure promotion to the Southern Premier.
After his matches, he used to start his police job in the evening.
His father Mark and his brother Jobe still live in Birmingham where Mark does police work while Jobe plays football for a club. On the other hand, Jude and his mother currently reside in Dortmund, Germany where he plays for Borussia Dortmund.
Similar Article: Vinicius Jose Paixao de Oliverira- Meet Vinicius Junior's Father
Jude Bellingham Following his Father's Footstep
Though his father never played professional football, Jude has so much to learn from him and is currently following in his father's footsteps.
Mark is his son's first coach and urged him to play football from a very young age. His love for football also started after watching his father play.
"I used to watch him play all the time. It's where I started to get that love for football. I think you can see in the way I play that I've watched the game from a young age. That non-league style of toughness and being gritty when you need to be is reflected in my game, and I do think that comes from watching my dad play – even though he never tackled!"

Bellingham told The Guardian.
The father-son duo still has a good bond as Mark was the one who convinced Jude to join Borussia Dortmund instead of Manchester United.
Check This: Meet Paul Arriola's Parents: Dawn Arriola and Art Arriola, Also has a Brother
Jude Bellingham's Bio
He was born Jude Victor William Bellingham on 29 June 2003, in Stourbridge, England. The 19-year-old English footballer is 6 ft 1 in (1.86 m) tall.
Jude also has a younger brother named Jobe Bellingham.
He attended Priory School in Edgbaston, Birmingham.
Bellingham got his first training at Stourbridge and joined the youth academy of Birmingham City in 2010. He made his senior debut in 2019 and played for a season.
The English midfielder then signed with Bundesliga club Borussia Dortmund for an initial transfer fee of £25 million- plus "several million more" depending on performance-related criteria.
Jude has played 6e matches for the German club and netted 4 goals.
Moreover, he has also represented his national team at various age levels. He made his place in the senior team in November 2020 and was also named in the squad for the Euro Cup 2020.
His brother Jobe Bellingham's Bio
Jude's younger brother Jobe has also followed his father' and brother's path to become a footballer. He currently plays as a midfielder or forward for EFL Championship club Birmingham City.
Jobe Bellingham was born on 23 September 2005, in Stourbridge, England.
He played for the youth academy of Birmingham City and made his senior debut at the age of 16, becoming the second youngest debutant. In July 2022, he agreed to a professional contract with the club that would start on his 17th birthday.
Besides, Jobe has also featured in English U16 and U17 teams in various matches.
His Father's Instagram and Twitter Account
Jude's father is on Twitter and goes by @Bello1966 where he is followed by more tan 7.7k followers. He is a proud father and has shared many clips of his sons' play on his account.
Moreover, he also has an Instagram account @1966bello which he has kept private.
Know about Footballers Parents: Christian Pulisic's Parents and Family: Does he have a Girlfriend?