Diane Finnegan Kutcher, the Mother of Ashton Kutcher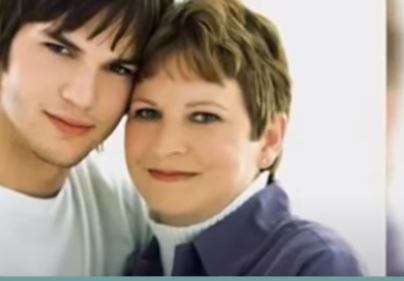 Diane Finnegan Kutcher might not be a popular name but she is the mother of actor and model Ashton Kutcher. Earlier, she was an employee at Procter and Gamble.
Diane, who previously married Larry M. Kutcher, has three children, a daughter named Tausha, and fraternal twin sons named Ashton and Michael.
Her son Ashton is an American actor, model, producer, and entrepreneur. He is known for starring in the movies like My Boss's Daughter, The Guardian, No Strings Attached, and the biographical drama movie Jobs.
What's her Ancestry?
Diane Finnegan Kutcher has an Irish surname so, she reportedly comes from Irish ancestry. However, there is no details about her family and childhood.
She was born in the USA so, she has American nationality.
Husband and Children
Diane first married a factory worker Larry M. Kutcher.
He worked at General Mills. Her husband comes from half German and half Czech ethnic background.
They have three children together, an elder daughter named Tausha born in the mid-1970s, and fraternal two sons named Ashton and Michael born on February 7, 1978.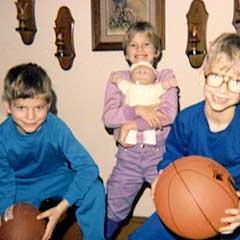 The couple lived in Cedar Rapids, Iowa.
However, they split in the early 1990s and Daine married Mark Portwood. The couple is still together.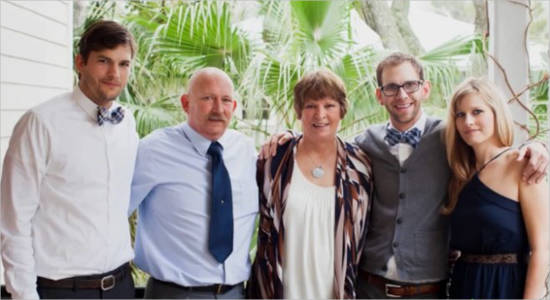 About her son Ashton Kutcher
Ashton is a model, actor, producer, and entrepreneur, born as Christopher Ashton Kutcher on February 7, 1978, in Cedar Rapids, Iowa, U.S.
He has Czech, German, and Irish ancestry.
He studied at Washington High School in Cedar Rapids and enrolled at the University of Iowa to study biochemical engineering.
Ashton initially modeled for Calvin Klein and several other projects.
He then moved to LA and starred in the That '70s Show as Michael Kelso alongside Topher Grace, Mila Kunis, Danny Masterson, etc.
He even made his movie debut in Coming Soon in 1999. Ashton then starred in several hit movies including Just Married, Guess Who, The Guardian, Valentine's Day, Jobs, The Man Who Saved the World, etc.
His upcoming movie is Vengeance.
Moreover, he has also appeared in series like Punk'd, Two and a Half Men, The Ranch, etc.
Ashton's Mother's Day Surprise
Ashton Kutcher surprised his mother with a special gift on Mother's Day in 2015.
He renovated the basement of her house with the help of his stepfather Mark while she was out.
"This is my way of saying thank you to my mom. My mom has been a great influence in my life. My parents gave me everything. They went to great sacrifices to give me the life that I have and anything that I can do to say thank you is the right thing to do."
Diane was in tears after she saw her house re-modeled by her son.
"I went to visit Ashton and the new baby and they decided they needed me to stay out there for a little while to help. And I come, and this is what I find. It does mean a lot to me, it's beautiful."
Ashton Kutcher's Wife and Children
Jobs star is married to his wife Mila Kunis and has a child with her.
He started dating That '70s Show co-star in early 2012 and was engaged to her after two years in February 2014.
They welcomed their first daughter Wyatt Isabella Kutcher in October 2014.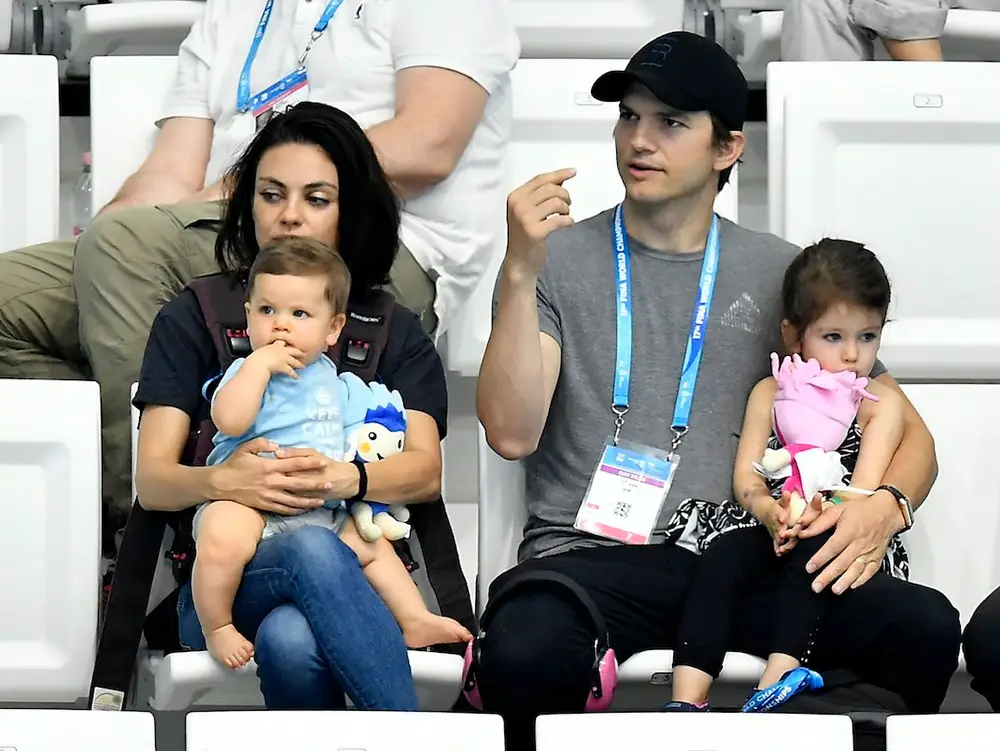 The couple tied the knot in July 2015 and now has been together for around a decade.
Ashton and Mila Kunis welcomed their child Dimitri Portwood Kutcher in November 2016.
Who is Mila Kunis?
Ashton's wife Mila Kunis is a Ukrainian-born American actress best known for starring in the psychological thriller Black Swan.
She was born on August 14, 1983, to father Mark Kunis and mother Elvira Kunis.
Mila has starred in several hit movies like The Book of Eli, Oz the Great and Powerful, Black Swan, and series like Days of Our Lives, That '70s Show, Family Guy, etc.
Related: Mila Kunis Thanked her Parents by Renovating their Home: How is Mila's Relationship with her Mother Elvira?
Why did Ashton divorce Demi Moore?
Earlier, the youngest Kutcher son was married to Demi Moore on September 24, 2005.
Moore separated from him after six years on November 17, 2011.
Ashton filed for divorce from Moore after a year on December 21, 2012, in Los Angeles Superior Court, citing irreconcilable differences.
The divorce was settled on November 27, 2013.
Ashton's Ex-Girlfriend was Brutally Killed
At the beginning of his career, Ashton Kutcher had a girlfriend named Ashley Ellerin, who was a fashion designing student.
She was brutally killed in 2001 when she was just 22 years old.
Ashton and Ashley had planned to go on a date on the day she was killed. The actor was late so, when he reached her house, she didn't respond to him and he thought she might have left.
The next day, her body was spotted by her friends. Ashton met his lawyer and said that he had visited her and his fingerprint could be in her house.
Ashton also said everything he saw that day. Later, police discovered that she was killed by a serial killer Michael Gargiulo.
Gargiulo was hanged to death on July 16, 2021, for several murders he had committed.
Net worth and Source of Income
Diane Finnegan Kutcher doesn't have any source of earnings currently. She is retired and lives with her husband Mark in Iowa.
Her son Ashton is a famous celebrity who is worth $200 Million.
Kutcher reportedly earned $250,000 to $300,000 per episode from the teen sitcom That 70s Show. He earned millions every season.
He charged $700,000 per episode while he starred in the Two And A Half Men.
| | |
| --- | --- |
| Movies | Box Office Earnings |
| New Year's Eve | $146,850,273 |
| No Strings Attached | $149,228,078 |
| What Happens in Vegas | $218,535,708 |
| Open Season | $191,932,158 |
Ashton Kutcher's movies in Box Office
Besides, Ashton also earns huge money from his business ventures, Sound Ventures, and A-Grade Ventures.
Moreover, he owns several cars and real estate properties.