Meet Oleksandr Usyk Children: Yelizaveta, Kyrylo, and Mykhailo Usyk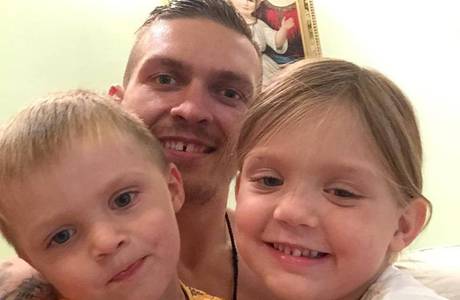 Oleksandr Usyk is a world champion Ukrainian professional boxer who holds titles in two weight classes: the unified WBA (Super), IBF, WBO and IBO heavyweight titles and the undisputed cruiserweight.
Usyk is scheduled to defend his heavyweight titles against former champion Anthony Joshua on August 20.
Ahead of their rematch, Americanstarbuzz has made research on the champion fighter also popular as The Cat. We came to know that he is married but how many children does he have? Know all the details here….
Oleksandr Usyk- Father of 3: Who is his Wife?
Usyk's wife is Yekaterina Usyk. They have been married since 2009. However, his wife Kateryna lives quite a private life in spite of being the wife of the world champion boxer.
She makes a very rare appearance on social media.
Usyk and his spouse are the parents of two handsome sons and a beautiful daughter named Kyrylo Usyk, Mykhailo Usyk, and Yelizaveta Usyk.
They currently reside with their children in Kyiv, Ukraine.
Who are his Children?
Oleksandr and Yekaterina's first child is a daughter named Yelizaveta Usyk who was born in 2010, a year after their wedding. She is 12 years old.
His second child, a son Kyrylo Usyk was born in 2013 and is 9 years. Mykhailo Usyk is their last child born in 2015.
For security reasons, Usyk doesn't post photos of his children on Instagram.
Oleksandr Usyk's Family and Parents
He was born on 17 January 1987, in Simferopol, Crimean Oblast, Ukrainian SSR, Soviet Union.
His parents were from northern Ukraine as his father was a native of Sumy while his mother was born in the Chernihiv region (in the village of Rybotyn, Korop Raion).
Usky's father was a military officer in Afghanistan who later worked as a security guard in Crimea. His mother was a construction worker. She later moved to Simferopol to study where she met Usyk's father.
Oleksandr is the oldest among three children. As a child, he played association football but switched to boxing when he turned 15.
He attended Lviv State University of Physical Culture.
Usyk Family Left Home During Russia-Ukraine War
Oleksandr Usyk and Yekaterina along with their three children had to leave their home in Vorzel, Bucha during the Russia-Ukraine war when the area was taken into control by Russian soldiers.
His children had to face such a horrible incident but were fine as they moved out in time.
Usyk's many valuable things were destroyed during the incident.
The boxer later told that his children had asked him a lot of questions regarding the attack.
"My children are asking: 'Daddy, why do they want to kill us?' I don't know how to answer that. My family are not in Ukraine now but a lot of people I know and a lot of my close friends are inside the country. 

"I am in touch with them every day, I am asking them for updates. I didn't want to leave the country. I want to live there, still. Straight after the fight I will go back to Ukraine."
Joined Ukrainian Army during Russian Invasion
The two-division champion kept his boxing career on hold and joined the Ukrainian army to support his country's fight against Russia.
"I really don't know when I'm going to be stepping back in the ring. My country and my honour are more important to me than a championship belt."
He even lost 10 kg during the war.
"Sasha lost 10 kilograms in a week of the war. He was so horrified, in such shock, he was so torn apart… He saw what I was doing."

His wife Yekaterina revealed.
When is Joshua vs Usyk 2?
Oleksandr Usyk is scheduled to have a rematch against Anthony Joshua on Saturday, August 20 and defend his world heavyweight titles. The fight is being held in Jeddah, Saudi Arabia.
Previously, the two heavyweights fought on 25 September 2021 at Tottenham Hotspur Stadium. Usyk won the fight via unanimous decision, with scores of 117–112, 116–112 and 115–113.
He won the WBA (Super), IBF, WBO, and IBO heavyweight titles and became the unified world heavyweight champion.
Also Read: Mike Tyson's Ex-Partner Sol Xochitl Biography; Where is she Now?