Meet Brenden Aaronson's Parents: Janell Aaronson and Rusty Aaronson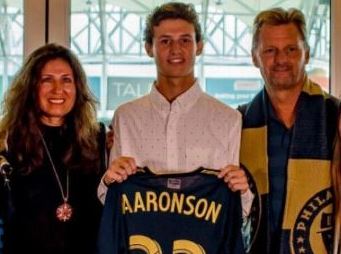 Brenden Aaronson is currently an important member of the United States National Soccer Team and will be a key player at the FIFA World Cup 2022. He currently plays professional football for the Premier League club Leeds United.
Nicknamed Medford Messi, Brenden started his professional career with Bethlehem Steel FC and has also played for Philadelphia Union and Red Bull Salzburg.
He joined Leeds for a transfer fee of $30.2 million in May 2022 and scored his first goal against Chelsea.
Brenden also became the first American footballer to score under an American coach in the Premier League. With this feat, the 21-year-old winger earned huge recognition among American soccer fans.
Football experts, fans, and agents have been searching for his family, parents, and siblings. Who are his father and mother? Let's know them in detail.
Brenden Aaronson parents: Janell Aaronson and Rusty Aaronson
Brenden Aaronson is the son of mother Janell Aaronson and father Rusty Aaronson. His parents are American citizens based in Medford, New Jersey, United States.
However, as his surname is Aaronson, his ancestors could be European and might have migrated to the US from northern Europe.
Aaronson is a Jewish patronymic surname, so he was raised in a Jewish American family.
Brenden's father Rusty is also from a football background. He is a President / Head Coach of the u17 girls' team at Real Jersey FC.
His mother Janell is a housemaker and is also a huge fan of him. She frequently makes posts in support of her children on her social media.
Rusty Aaronson Bio and Wiki
Brenden's father Rusty attended Monmouth University from 1985 – 1990 where he studied BA in Criminal Justice. During that time, he played soccer for the college team and also played in the semi-pro league for some years.
After some years, he co-founded Global Options, Inc. and served as an Executive Vice President.
In 2011, he founded Capital Investigating and served as the president for around a decade. Brenden's father also founded Real Jersey Football Club in 2016 and is the president and head coach.
Besides, he is also a founder of Fearless Futbol and even serves as a Consultant at RA Risk Solutions.
Similar Article: Christian Pulisic's Parents and Family: Does he have a Girlfriend?
Who are Brenden Aaronson's siblings?
The USMNT star has two biological siblings, a brother named Paxten Aaronson and a sister named Jaden Aaronson.
His brother Paxten is also a footballer like him. He plays for the Philadelphia Union of Major League Soccer as an attacking midfielder.
Paxten was born on August 26, 2003, and is 2 years younger than Brenden. The Aaronson brothers have a very good relationship and Paxten has been learning a lot from his elder brother.
Who is Brenden Aaronson's Girlfriend?
Brenden Aaronson is in love with his college sweetheart Milana D'Ambra. They have been dating since 2018 and can be seen sharing the love on Instagram quite often.
Brenden and Milana recently celebrated their 4-year love anniversary. The Leeds star shared several photos of the couple on 4th year anniversary and wrote:
4 years of memories and happiness. Thank you for being my best friend. I love you so much Milana and so grateful to have you in my life! See you soon❤️
Milana is a student at Temple University. She is popular on Instagram where she is available as @milana.dambra
Read Next: Meet Bukayo Saka's Parents- Yomi Saka and Adenike Saka