Who is Ashleigh Behan? Untold Truth about Kalvin Phillips' Girlfriend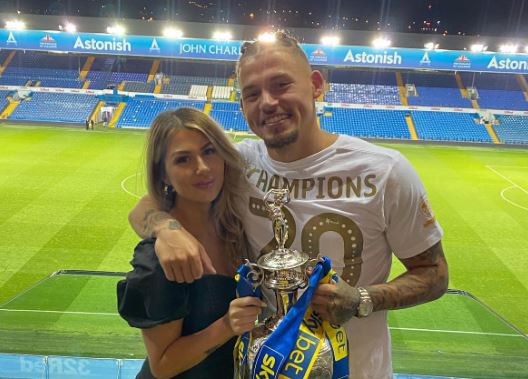 Kalvin Phillips is an English professional football player who plays as a defensive midfielder for Premier League club Manchester City and the England National Team.
From EFL Championship to Premier League and to the England National Team, Phillips became a star overnight. He was recently signed by the defending Champions Manchester City.
The secret weapon of Leeds' former coach Marcelo Bielsa is now in the hands of Pep Guardiola who is finding a new way to operate the Yorkshire Pirlo.
Keeping his professional career aside, who is Kalvin Phillips' Girlfriend? How is their love life? A short report on his partner- Ashleigh Behan.
Kalvin Phillips' Girlfriend- Ashleigh Behan
Leeds United's academy product Kalvin Phillips' girlfriend is a Make-up artist and Instagram star Ashleigh Behan, who he has been dating for a very long time.
They are childhood friends as they first met in school when they both were 11 years old. The pair have been in a relationship since the early 2010s as they celebrated their first Valentine's Day in 2010.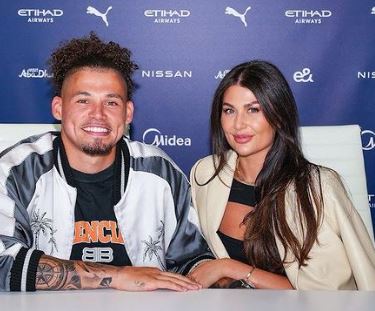 They were spotted together at Leeds United player Liam Cooper's wedding in Ibiza in late June.
Ashleigh was born on May 30, 1996, in Leeds, England. She is 26 years old and holds an English nationality.
The English WAG followed her passion and started her own business of fashion and make-up. Earlier, she worked at two jobs including one as a receptionist.
Her Instagram account is @ashhhbx where she has 35k followers.
Ashleigh Behen Cried on Kalvin's England Call up
Ashleigh Behan revealed that she became emotional when she heard that her boyfriend made it to the England Team.
She was at a restaurant next to her workplace when Kalvin FaceTimed her to tell her the happy news. She screamed out of happiness among all the people which she disclosed sometime later.
"So I was in the Aldi next to where I worked at the time grabbing my lunch when he FaceTimed me when I was at the till. I just screamed and cried instantly, I think the checkout guy thought I was mental hahaha."
Doesn't Like to be Called WAG
Ashleigh doesn't like the word WAG, which refers to the partners of footballers and says she cringes when she hears it.
"I hate it, if someone says it to my face, I could cringe to death. I think it's so outdated and mainly used as a derogatory term due to the stereotype which really isn't the case anymore for most wives and girlfriends anyway."
She lives a normal life and has normal friends outside of football.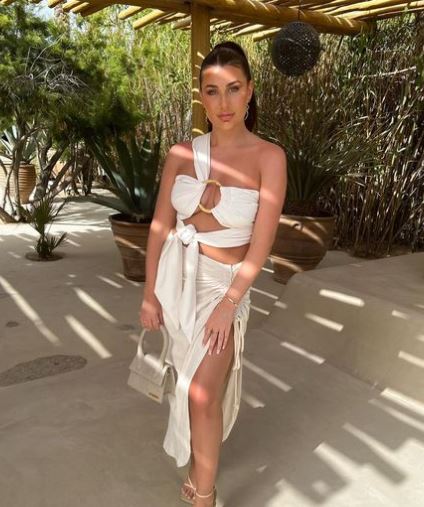 Check This: Mason Mount's Girlfriend Chloe Wealleans-Watts: No Longer Together???
Kalvin Phillips' Difficult Childhood
The English footballer was born Kalvin Mark Phillips on 2 December 1995, in Leeds, England. He was raised by his single mother Lindsay and his grandmother.
His father abandoned them and had been in and out of their life. He even spent some time in jail.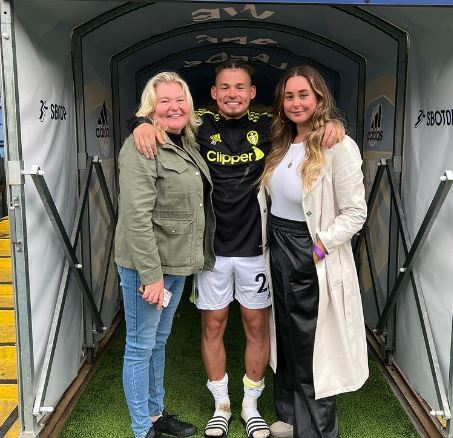 Kalvin has a younger brother and two sisters. He used to have free meals at school and sometimes his mother wouldn't eat in order to provide food for him and his siblings.
They had a three-bed house and his mother used to sleep on the sofa.
Football Career
Phillips attended the academy of Wortley to learn football. After around 7 years, he joined the Leeds youth academy in 2010.
He made a place in the first team in 2014 and became a starter in 2016. He won the EFL Championship with Leeds in 2019 and was promoted to the Premier League.
After a season, he was signed by Manchester City in 2022 on a six-year contract for a reported fee of £42 million.
Kalvin was called up to the England National Team before his Premier League debut in 2020. He also represented England at UEFA Euro 2020 and was praised for his dynamic play.
Phillips was named England's 2020–21 Men's Player of the Year.
Ashleigh Behen Net worth and Salary
She previously had two jobs to support her family but has started her own makeup business and makes good earnings. She reportedly earns around $50 thousand a year.
Her boyfriend Kalvin Philips £150000-per-week at Manchester City which is more than £7.5 Million in a year.
Earlier, he earned £38,000 per week, and £1,976,000 per year while playing for Leeds. His net worth is estimated to be $5 Million.
Also Read: Meet Tolami Benson: Bukayo Saka's Girlfriend Revealed!