Sportscaster Rebecca Haarlow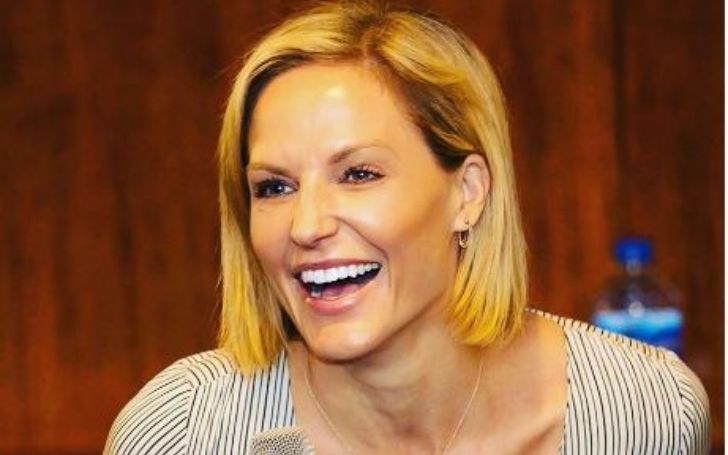 For more than a decade, Rebecca Haarlow is working as a sideline reporter and currently works for NBA's New York Knicks on MSG Network. But it was not the job as a sportscaster she jumped in from the start. Formerly, the Princeton University graduate was a PR Coordinator at Silicon Valley Sports and Entertainment for 3 years until 2006.
Throughout her career journey, Haarlow had stints as a reporter for Fox Sports News, NBC Chicago, Big 10 Network & NFL Network.
What Is Age and Height of Rebecca Haarlow?
Born on December 20, 1978, Rebecca is a native of Chicago, Illinois, the USA, and one of 3 children to John and May Haarlow. She has two brothers named Mike and John Jr., though keeps detail on her family background pretty low.
As of 2021, the American sideline reporter is 42 years old and has a height of 5 feet 7 inches.
An attendant of Hinsdale Central High School, Haarlow was active in athletics during her school days. She even competed & won six Class AA state track and field medals. Later, the future NBA On TNT reporter enrolled at & graduated from Princeton University.
Career As A Sports Reporter- Works For MSG Network
Since September 2015, Haarlow works as a sideline reporter for MSG Network, a TV broadcast dedicated to NBA team New York Knicks. Moreover, she is a reporter for one of Turner Sports holdings NBA On TNT; works there since 2003.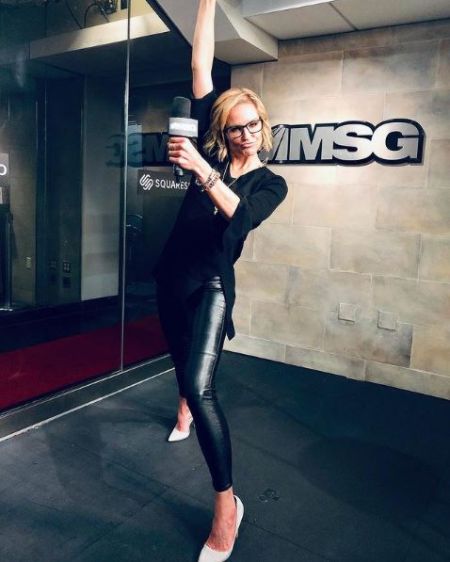 Following her graduation from University, Rebecca Haarlow was an editorial assistant of Shape Magazine (2002-2003). Later, she joined Silicon Valley Sports and Entertainment as PR Coordinator and worked for 3 years until 2006.
From August 2007 to September 2015, the blonde served as an analyst & sideline reporter for Big Ten Network.
Formerly, a sideline reporter for Portland Trail Blazers (2007-10), she joined NFL Network for 3 years (2011-14) as a host & reporter. Then, the Chicago native briefly was a sports anchor for NBC Chicago, while also freelancing at Fox Sports Network.
Net Worth and Salary Of Rebecca Haarlow
It's been more than a decade since Haarlow is active as a journalist, specifically as a sideline reporter. No doubt, the working experience and her progression in acclaims saw a rise in her fortune as well. As of 2021, Rebecca has an estimated net worth of $1 million.
In the United States, the average annual salary of a sideline reporter is $46,000 per year. Allegedly, Rebecca Haarlow takes home payment in the 6-digit figure as an on-field reporter for MSG Networks and NBA On TNT.
As per her LinkedIn profile, she is the founder and media consultant of her own company, Rebecca Haarlow Inc. For sure, it sees her a turnover of hundreds of thousand dollars. Formerly, the American sports reporter was a Chief Marketing Officer for Cobbler Concierge (2014-15), a company which she founded too.
Also Read: Who Is Janet Shamlian? Her Husband, Married Life, Kids, And Net Worth!
Relationship Status Of Haarlow- Is She Dating Or Married?
The NBA On TNT reporter makes on-field appearances for an interview and asks players about their experiences & challenges in the game. As alluring as her persona is, probably is the curiosity of fans on her love life. Though, she never shared an experience or a trace of her dating story.
So far as of 2021, Rebecca Haarlow is not in a relationship officially or has any boyfriend. Moreover, as many may claim about her secret husband but she is not married yet.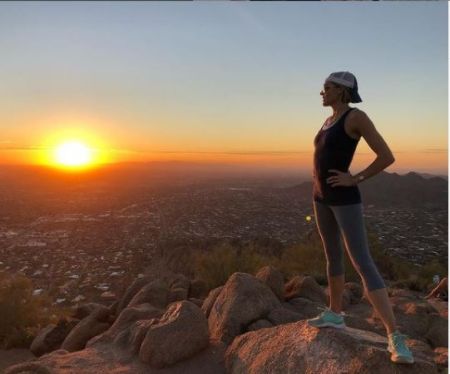 Haarlow has more than 45.8K followers on Instagram (@rebeccahaarlow), while her Twitter (@RebeccaHaarlow) has 39K followers. But seems she keeps all of her posts professional only. As for her leisure time, Rebecca loves to travel a lot.
See More: Fox News Contributor Jason Riley- All About His Professional & Personal Life