Legendary actor Al Pacino: Age, Height, Net Worth, Family, & More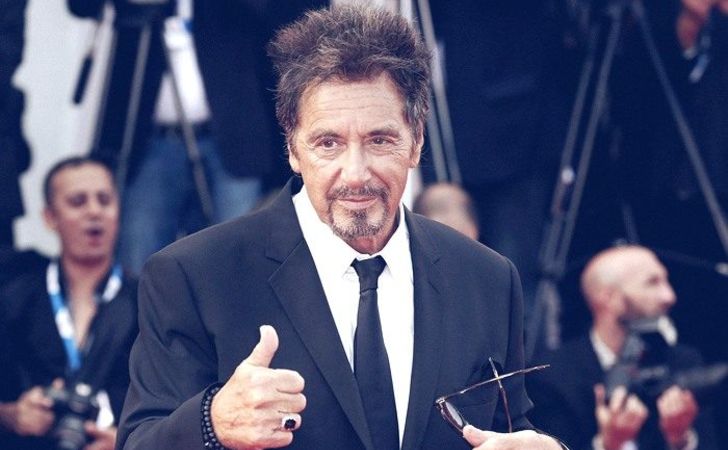 Quick Facts of Alfredo James Pacino
| | |
| --- | --- |
| Full Name | Alfredo James Pacino |
| Net Worth | $120 million |
| Date of Birth | 25 April, 1940 |
| Nickname | Sonny |
| Marital Status | Unmarried |
| Birthplace | Manhattan, New York City, New York, USA |
| Profession | Actor |
| Nationality | American |
| Active Year | 1967 – present |
| Height | 5' 6" (1.68 m) |
| Education | Actors Studio, HB Studio |
| Children | 3 |
View
Alfredo James Pacino, professionally known as Al Pacino, is an Academy-winning actor and filmmaker. In his over five-decade-long career, he has appeared on dozens of stage and on-screen projects and is considered one of the iconic figures of Hollywood.
Age, Height, Parents, Education
Pacino is currently 80 years old. He was born on April 25, 1940, in the East Harlem neighborhood of New York City to Italian-American parents; Rose Gerardi and Salvatore Pacino, a San Fratello, Sicily native who worked as an insurance salesman and restaurateur in Covina, California.
Following his parents' divorce in 1942, Pacino moved with his mother into his maternal grandparents' home in the South Bronx. His maternal grandparents, Kate Gerardi and James Gerardi, were Italian immigrants.
Talking about Pacino's height, he stands 5 ft and 6 in (1.68 m) tall. He attended Herman Ridder Junior High School but dropped out and subsequently enrolled at the High School of Performing Arts. Al also studied acting at the Herbert Berghof Studio in Greenwich Village, New York City.
Pacino is the stepson of Katherin Kovin-Pacino, an actress and make-up artist. Moreover, he has four half-sisters: Josette Pacino, a teacher, twins Roberta Pacino, a filmmaker, and Paula Pacino, and Desiree Pacino.
How much is Al Pacino Net Worth? His Salary in Godfather & Notable Movies
Pacino's net worth is estimated at a whopping $120 Million, as per Celebrity Net Worth. The 80-year-old garnered significant recognition with his first lead role as Bobby, a heroin addict, in the 1971 romantic drama film The Panic in Needle Park.
Just a year later, Pacino landed in the role of Michael Corleone, the youngest son of crime boss Vito Corleone, in Francis Ford Coppola's crime film The Godfather. It went on to be his breakthrough role, earning him his first Oscar nomination and propelling him to unprecedented fame.
While the movie grossed over $240 million, Pacino received only $35,000 as a salary, which equals around $215,000 today's dollars. The 80-year-old reprised his role in the sequels The Godfather Part II and The Godfather Part III. For the second installment, Pacino made $500,000, the same as $2.6 million now. Moreover, Pacino received 10% of the film's earnings after break-even, which is estimated to be tens of millions.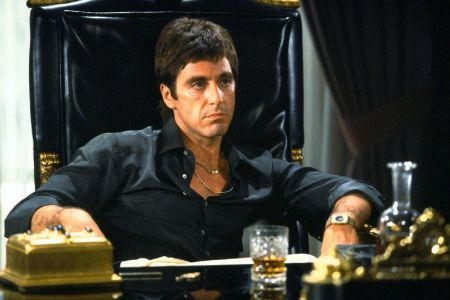 Pacino reportedly asked $7 million in addition to the percentage of gross to reprise his role in the third installment, The Godfather: Part III. However, after director Francis Ford Coppola threatened to revise the script that would open with his character's funeral, Pacino settled for $5 million.
The Scarface star earned a salary of $1 million for the lead role in 1979 neo-noir film …And Justice for All and $1.5 million for 1992 drama film Glengarry Glen Ross. The following year, Pacino starred as a Puerto Rican criminal "Carlito Brigante," for which he received a salary of $6 million.
In 2002, Al had lead roles in Christopher Nolan's Insomnia and science fiction film Simone, earning $11 million for each. Besides, Pacino appeared alongside Robert De Niro and Joe Pesci in Netflix's crime film The Irishman in 2019. For his portrayal of Jimmy Hoffa in the movie, Pacino reportedly received $20 million, his highest salary to-date.
Al Pacino House
With award-winning performance in a career that has spanned for over five decades, Pacino has successfully established himself as an influencing figure in cinema. No wonder he has amassed a fortune worth $120 million, which also includes his real assets. He bought a large property in the town of Palisades, New York, which reportedly spans over three private acres, in 1979 for $375,000.
The 80-year-old sold a portion of his compound, including his Palisades guesthouse, for $3.3 million in 2013. It is believed that Al owned another house in the Palisades neighborhood, which he sold in 2010.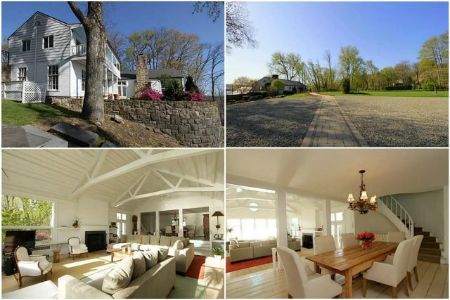 Pacino has stayed in his Beverly Hills residence for over a decade now, which he rented from the late novelist Jackie Collins. While Collins' estate sold the major portion of the property for a total of $30 million in 2016, Pacino has been able to remain a renter. The Scarface actor also owned various Central Park South condos between 1988 and 2013, including a 14-floor corner condo from 2010 to 2013.
Al Pacino: Wife & Children
Pacino has never married, and for this reason, has no wife. But he has fathered three children from his previous relationships.
The 80-year-old became a father for the first time when his ex-partner Jan Tarrant, an acting coach, gave birth to their daughter, Julie Marie Pacino, on October 16, 1989.
Al has two children, twins, son Anton James and daughter Olivia Rose, born on January 25, 2001, from his relationship with actress Beverly D'Angelo. Both dated from 1996 until 2003.
The Scarface actor also had an on-again, off-again relationship with his The Godfather Trilogy co-star Diane Keaton. Besides, he has had romantic relationships with actresses Tuesday Weld, Marthe Keller, Lyndall Hobbs, Kathleen Quinlan, and Jill Clayburgh in the past.
Pacino split from his long-time girlfriend Lucila Solá, an Argentinian actress, in 2018. They had briefly ended their relationship in 2015 but had eventually got back together.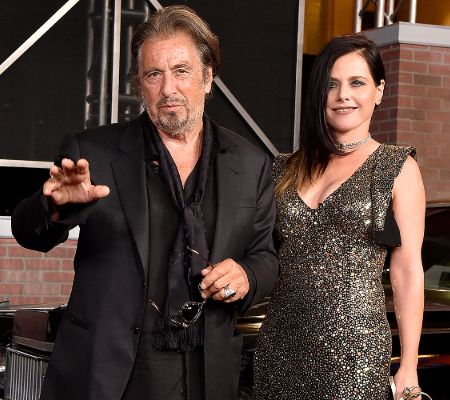 Following his separation from Lucila, Al began dating Israeli actress Meital Dohan after both met at a Hollywood afterparty. They separated in February 2020, with Dohan citing their 36-year age gap as the reason for the split.
"It's hard to be with a man so old, even Al Pacino. The age gap is difficult, yes. I tried to deny it, but now he is already an elderly man, to be honest," she told Israel's LaIsha magazine.