Late Robert Kardashian, Father Of Kim Kardashian-Net worth, Children, Cause Of Death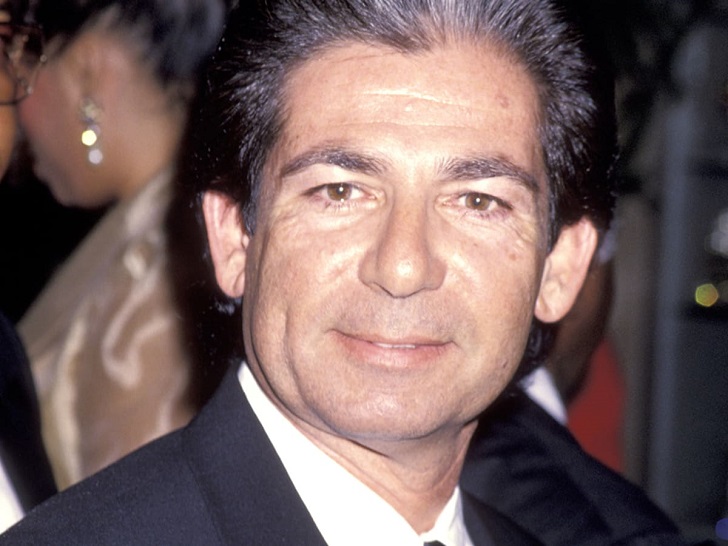 Quick Facts of Robert Kardashian
| | |
| --- | --- |
| Full Name | Robert Kardashian |
| Net Worth | $30 Million |
| Date of Birth | 22 February, 1944 |
| Birthplace | Los Angeles, California, U.S |
| Ethnicity | White |
| Profession | Attorney, Businessman |
| Nationality | American |
| Spouse | Kris Houghton (m. 1978; div. 1991) Jan Ashley (m. 1998; ann. 1999) Ellen Pierson (m. 2003) |
| Children | 4 |
View
Robert Kardashian was a wealthy American attorney and businessman who rose to fame during and after the OJ Simpson trial in 1995. He is also known as the husband of reality star Kris Jenner and father of entrepreneurs and reality stars Kourtney, Kim, Khole, and Robert Kardashian Jr.
Education And Early life
Robert Kardashian was born Robert George Kardashian on February 22, 1944, in Los Angeles, California, United States. His parents were of Albanian American descendant. Moreover, his father ran the largest meatpacking business in Southern California. He also had a brother Tom Kadarshian and sister Barbara.
Kardashian studied at Susan Miller Dorsey High School and the University of Southern California, earning a B.S. in business management in 1966. He received his Juris Doctor Degree (J.D) from the University of San Diego School of Law and practiced law for nearly a decade before venturing into entrepreneurship.
How Did He Start His Career ?
Kardashian started as a lawyer in the late 1960's, but after working for a while he decided to change his career. Later, he co-founded the trade journal Radio & Records in 1973, which he and his colleagues sold for a big profit in 1979. The lawyer also pioneered the notion of playing music in cinemas between movies. He then turned the idea into a business, establishing Movie Tunes.
Robert subsequently found himself in the center of several other business possibilities and worked in-theatre music and advertising firm.
His Involvement In The Infamous People vs OJ Simpson Case 
The friendship between Robert Kardashian and OJ Simpson began even before the advocate joined the former broadcaster's 'Dream Team' of attorneys. Bob and O.J originally met at the University of Southern California in 1967.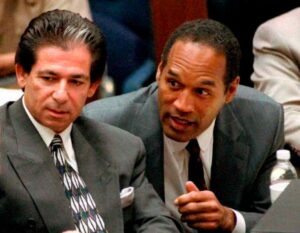 Source: Pinterest
Their friendship grew close over time as they invested in numerous enterprises together, including Juice Inc. and Concert Cinema.
Even though Robert had not practiced law in several years and his license had subsequently become inactive, he chose to renew his license to assist O.J. in court. O.J was accused of murdering his ex-wife Nicole Brown Simpson and her friend Ronald Goldman.
O.J. was declared not guilty of the contentious and extremely publicized and broadcast case.
Marriage With Popular Reality TV Star Kris Jenner
The business tycoon and lawyer have had many affairs. He dated Kris Jenner; however, their romance abruptly stopped when Robert thought she was too young for him and that he was searching for something more serious.
In 1975, Robert broke things off with Kris and immediately moved on with then 30-year-old Priscilla Presley, who had recently divorced her ex-husband, musical superstar Elvis Presley.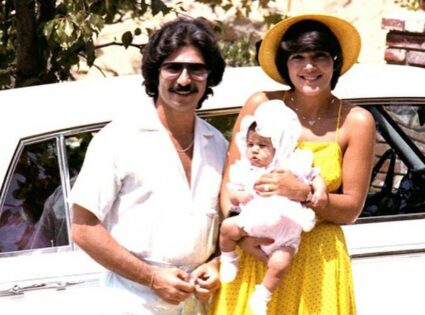 Source: E! Online
The romance between Robert and Priscilla also didn't last long as he brought up marriage. Priscilla, who still cared about her famous ex, was not ready to marry. A family acquaintance said she informed Robert,
"Look, I'm not going to marry anyone until Elvis dies."
He got back to kris two years later, and they finally got married on July 8, 1978. Furthermore, in 1990 things changed as Jenner started to date Todd Waterman, a pro soccer player ten years younger than her.
Robert eventually discovered his wife's infidelity, and the pair divorced in March 1991. Kris subsequently said that cheating on Rob was one of her "greatest regrets." Despite their complex background, Robert and Kris maintained a pleasant friendship while co-parenting their now-children successfully.
Kardashian eventually got engaged to his third cousin Denice Shakarian Halicki, the widow of movie producer H.B. Halicki, but they never married.
Following the trial of OJ that catapulted Robert Kardashian to celebrity status, he married his second wife, Jan Ashley, in 1998. Their marriage, however, lasted a month barely and was dissolved after 30 days.
Robert later met Ellen Pierson, whom he married only six weeks before his death in 2003.
Father Of Popular Stars Kourtney, Kim, Khloe And Robert Kardashian
Robert and Kris had their first child, Kourtney Kardashian, in April 1979. Kim Kardashian, her younger sister, was born in October of the following year.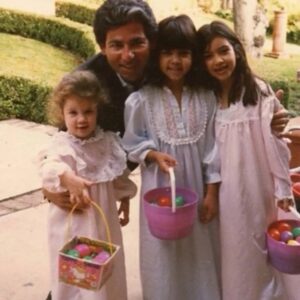 Source : Instagram(@krisjenner)
Similarly, Khloé Kardashian, the couple's third child, was born in 1984. Kris gave birth to their fourth child, a son called Robert Kardashian Jr, in March 1987.
All of Robert's kids are big celebrities now; it all started when the Kardashian family came with the reality show Keeping up with the Kardashian. The show showcased the day-to-day life of Kris Jenner, her then-husband Bruce Jenner and their kids, including Kendall and Kylie Jenner.
The show, since its debut, has received critical acclaim. It is sometimes chastised for emphasizing the "famous for being famous" notion and for appearing to manufacture parts of its tales. Despite the unfavorable reviews, Keeping Up with the Kardashians has drawn many viewers, becoming one of the network's most successful series and earning numerous audience awards.
Also see: Kourtney Kardashian On Recent Weight Gain and Haters
Cause Of Death
In July 2003, Robert Kardashian was diagnosed with esophageal cancer. Two months later, he died on September 30, 2003, at the age of 59.
He was buried at Inglewood Park Cemetery in Inglewood, California.
How Much Was Robert Kardashian Worth At The Time Of His Death?
The American attorney and businessman had a net worth of a whopping $30 million at the time of his demise. He prepared the path for other members of his family to succeed later in life.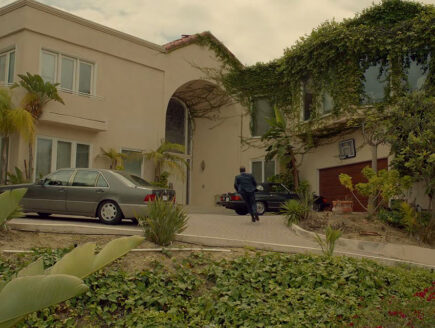 Source: LosAngeles Magazine
His children, Khloe ($40 million), Kim ($1.2 billion) , Kourtney ($35 million), and Robert Jr, ($10 million) are among them. Before making headlines for his involvement in the OJ Simpson case, Robert had a long and successful career as a lawyer. He also explored a number of commercial enterprises and entrepreneurial endeavors.
Foollow American Star Buzz for more Celebrity Content.