Ellen Mulaney- John Mulaney's Mom, Went College with Bill Clinton?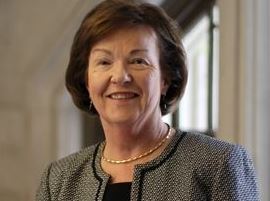 Quick Facts of Ellen Mulaney
| | |
| --- | --- |
| Full Name | Ellen Mulaney |
| Marital Status | Married |
| Birthplace | Salem, Massachusetts, the USA |
| Ethnicity | Irish Catholic |
| Profession | Lecturer |
| Nationality | American |
| Spouse | Charles Mulaney |
| Children | 4 |
View
Ellen Mulaney is best known as the mother of John Mulaney, an American comedian, actor, and writer.
Ellen works as a senior law lecturer at the Northwestern University Pritzker School of Law. Besides, she also works for the Illinois Supreme Court Committee on Character and Fitness.
She has also held the member position at the Illinois State Board of Ethics for 10 years.
Age and Family: What's her Ancestry?
Mulaney was born Ellen Stanton in the early 1950s in Salem, Massachusetts, the USA. She holds an American nationality.
Her mother Carolyn Stanton performed in a hospital benefit show called Pills A-Poppin in Marblehead, Massachusetts.
Her ancestors are from Ireland due to which she is of Irish Catholic heritage. Her grandfather George J. Bates was a Republican mayor of Salem, Massachusetts who also served as a congressman from that state.
Her grandmother Nora Jennings was from Ballyhaunis, County Mayo. Ellen's uncle William H. Bates served as a U.S. congressman.
Mulaney studied at Yale Law School and graduated in 1974. She then studied at Georgetown University School of Foreign Service.
Married to an Attorney; How many children does she have?
Ellen Mulaney met her future husband Charles "Chip" Mulaney Jr. while studying at Yale Law School in the early 1970s.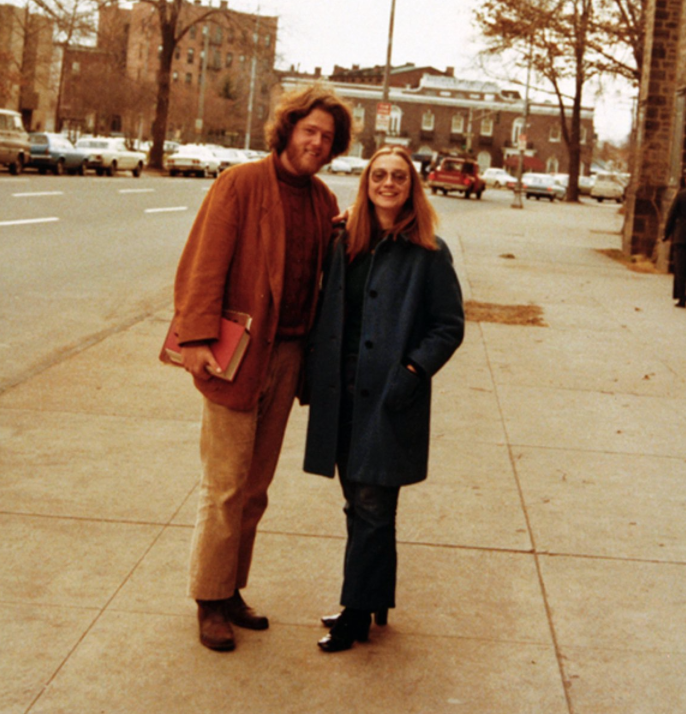 They soon developed feelings for each other and went to Georgetown University School of Foreign Service together.
After dating for several years, they married in the mid-1970s. Her husband Charles is an attorney and partner at a law firm named Skadden Arps.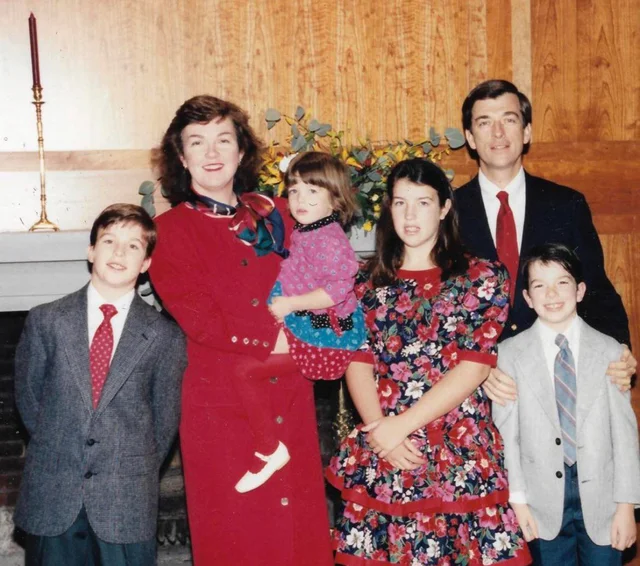 Ellena and Charles are the parents of 4 children including the middle son John Mulaney while their youngest son dies at birth.
Their first child is a daughter named Carolyn Mulaney. They then welcomed two sons.
Ellen's youngest daughter Claire Mulaney was born in the mid-1980s. She is a writer and producer who wrote for "SNL" and is a former writer for FOX's "Last Man Standing."
All about Ellen's son John Mulaney
John was born as the middle child to Ellen Mulaney and Charles "Chip" Mulaney Jr. on August 26, 1982, in Chicago, Illinois, U.S.
He got the confirmation name Martin in honor of his late brother Peter Martin. John attended St. Clement School where he was active in stage performances and plays.
He graduated from St. Ignatius College Prep in 2000. He majored in English and minored in theology at Georgetown University.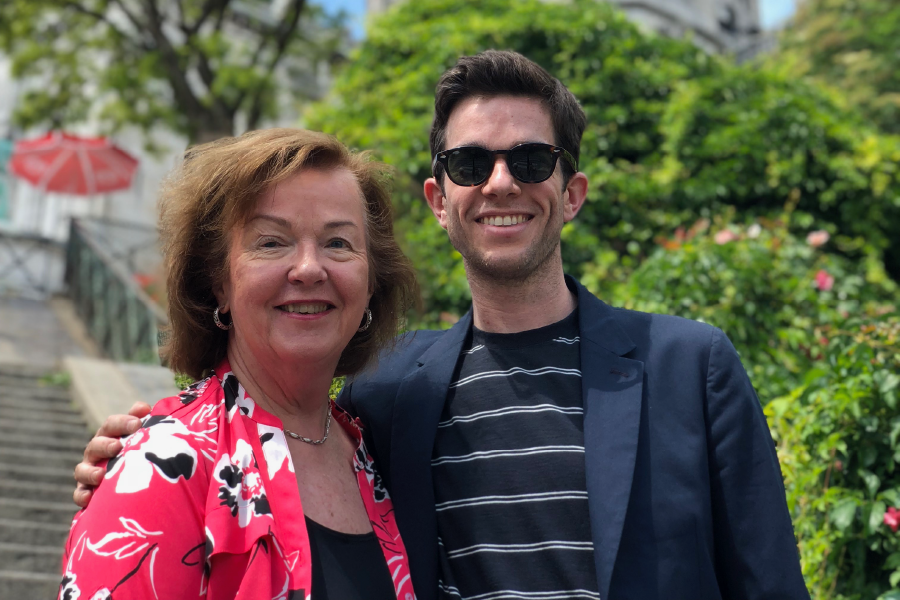 John moved to New York to pursue his comedy career and worked in various shows. He also performed on Saturday Night Live.
Besides, he also has several writing credits and even voiced the Spider-Ham in the animated film Spider-Man: Into the Spider-Verse.
Moreover, he even created, wrote, and produced the semi-autobiographical sitcom pilot Mulaney which was later canceled due to poor reviews.
Did Ellen Mulaney, her husband Charles and Bill Clinton attend the same school?
Ellen Mulaney and her husband Charles studied at Yale Law School and Georgetown University School of Foreign Service where Bill Clinton was also pursuing his education at the same time.
John Mulaney often involved his parents in his comedy and joked that his mother took her to meet then-president Bill Clinton in 1992 when he was just 9.
He said that his mother took him to the Bill Clinton campaign event and even said that Clinton had come to her house from the library while attending Yale Law School.
"We land at Bill Clinton's feet. Bill Clinton turns, looks at my mom and says, 'Hey, Ellen,' 'cause he never forgets a bitch, ever. My mom melts. She goes, 'Hi, Bill!'"

John Mulaney said in his 2015 "The Comeback Kid" comedy special.
His mother also jokingly said to The Daily that it was almost correct. She said, "He never crosses the line — most of what he says is 95 percent true," She further said, nevertheless, that her son never asked if he could feature her in his joke.
Similar Article: Patricia Burch McPhee- Katharine McPhee's Mother: American Idol Vocal Coach
Her son John's Affairs and Girlfriends
The comedian is in a relationship with actress Olivia Munn since May 2021. The couple has a son born on November 24, 2021.
Earlier he married multimedia artist Annamarie Tendler on July 5, 2014. They tied the knot in a wedding ceremony in Boiceville, New York which was assisted by friend Dan Levy.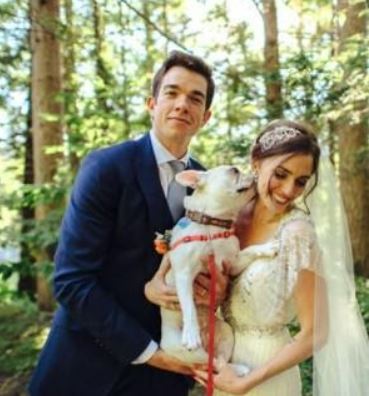 The couple announced their separation after six years in May 2021. Their separation came after John's 2-month stay in rehab.
As per the reporters, John Mulaney has asked for the divorce, which was finalized in July 2021.
Ellen and her Husband objected to John being Comedian
John's parents Ellen and Charles were against his decision to be a comedian. They thought he would not succeed in comedy.
Her husband even asked him after graduation if he really wanted to go into show businesses.
In response, John asked his father if he would be prouder of him if he worked as an investment banker or bond trader.
Ellen and her husband were convinced that he was following his dream and told him to do as he liked. They have been very proud of their son since then.
John's Addiction to Drinking and Drugs
Ellen's son got into a drinking habit at the age of 13. He faced several difficulties with his drinking and drug abuse.
In 2014, he revealed that he had quit drinking in 2005. He said:
"I quit drinking 'cause I used to drink too much, and then I would black out and I would 'ruin' parties, or so I'm told. When you do that enough, when you black out drinking and you do crazy things you kind of become, like, Michael Jackson. Like, any story anyone says about you might be true, and even you don't know by the end."
However, John checked into rehab in December 2020 due to drinking and cocaine addiction. He stayed in rehab for two months.
Recent Article: Magda Prinsloo- Things to Know About Behati Prinsloo's Mother