7 Facts About Vaughn Evelyn Levesque: Daughter of Paul "Triple H" Levesque and Stephanie McMahon, Granddaughter of WWE Chairman & CEO, Vince McMahon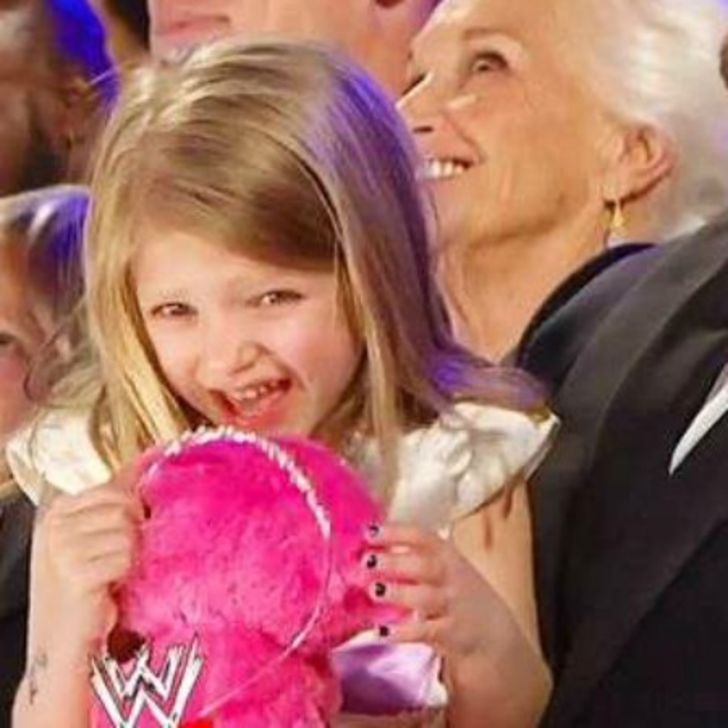 Vaughn Evelyn Levesque is the youngest daughter of former-professional-wrestler-turned-business-executive, Paul Levesque, and business personality, Stephanie McMahon.
Born into the biggest wrestling family in the world, Vaughn is the youngest grandchild of WWE chairman and CEO, billionaire Vince McMahon.
These are seven facts about Vaughn Evelyn Levesque:
7. Her Father is Former Professional Wrestler, Triple H
Vaughn's father, Paul Levesque, better known by the ring name "Triple H" is one of the most decorated professional wrestlers to have worked under the World Wrestling Entertainment (WWE) banner.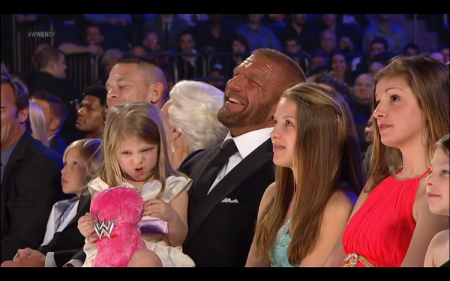 A 14-time World Champion for WWE, Triple H had achieved all there was to achieve, even marrying the daughter of the owner of WWE, Stephanie McMahon. They tied the knot on October 25, 2003, and went on to have three children, the youngest of whom is Vaughn.
6. Her Grandfather is the World Wrestling Entertainment Titan, Vince McMahon
Vaughn's maternal grandfather, Vincent Kennedy McMahon is a billionaire wrestling promoter and businessman. He is the chairman and CEO of the WWE, a title he inherited from his own father, Vincent James McMahon, in 1982.
Under Vincent K. McMahon's ruthless reign, the company proliferated to become a global monopoly by putting smaller promotions out of business. Nowadays, WWE is considered the biggest wrestling promotion in the world and is a multi-billion dollar conglomerate.
5. What is her Age?
Vaughn Evelyn Levesque was born on August 24, 2010. She is 10 years old as of May 2020.
She is the youngest grandchild of Vincent K. McMahon, with the closest being Rogan Henry McMahon (born on January 20, 2010), the youngest of Vince McMahon's other child, son Shane McMahon.
4. She is the Youngest of Three Children
Vaughn is the youngest of three children born to Paul Levesque and Stephanie McMahon. Their oldest daughter, Aurora Rose Levesque, was born on July 24, 2006. On July 28, 2008, they welcomed another daughter, Murphy Claire Levesque.
Vaughn arrived two years later, making their family complete.
3. She has Pretend-Wrestling Matches with Her Mother
The McMahons are one of the biggest — if not the biggest — wrestling families in the world. Vaughn's grandfather, Vincent K. McMahon, is a third-generation wrestling promoter; her father, Paul Levesque is a former WWE world champion and a current executive at WWE; and her mother, Stephanie McMahon is also a WWE executive.
It is no surprise that Vaughn would take an interest in wrestling, even at her young age.
In an interview with Strait Times, Stephanie McMahon revealed that she would have pretend-wrestling matches with Vaughn, including all the pageantry and the pomp and circumstances.
"I just had a 'match' with my six-year-old [Vaughn]. She made me announce her entrance, entering to Katy Perry's new song, Rise. She completely understands it all."

http://www.straitstimes.com/lifestyle/entertainment/wwes-heiress-stephanie-mcmahon-on-being-a-mum-villain-on-tv-and-engaging
2. Her Family is worth Billions
Being the biggest wrestling company in the world certainly has its perks: namely the odd billion or so dollars lying about. The McMahon family is the wealthiest wrestling family in the world.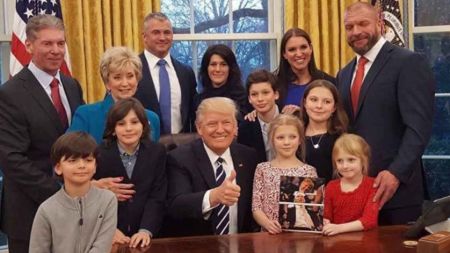 Vince McMahon alone is worth over $2 billion as the chairman and CEO of WWE. Paul Levesque also has a net worth of $150 million and Stephanie McMahon also boasts an impressive $150 million.
WWE, as a company, is listed as being worth $5.71 billion, according to sportskeeda.com.
In short, Vaughn might have to worry about many things in her future, but money isn't one of them.
1. Her Older Sister is Training to become a Pro-Wrestler
Vaughn might not be the only child of Paul Levesque and Stephanie McMahon who aspires to become a professional wrestler; and while for Vaughn wrestling might be a matter of play, but for her older sister, Aurora Rose Levesque, it is anything but.
Stephanie mentioned in a 2014 interview with CBS Sports that Aurora was training to become a professional wrestler.
"[Aurora] has really been bit by the [wrestling] bug. She wants to be a Diva more than you can imagine"

http://tbd.radio.cbssports.com/2014/10/06/stephanie-mcmahon-incredibly-powerful-voice-through-wwe/
She reiterated her daughter's aspirations to become a wrestler in another interview with ESPN in 2016
Aurora absolutely wants to be the women's champion. She has been trained by Natalya. She has got her heart set on it, but we'll see what happens there. I just want them to see unlimited opportunity and potential in themselves."

http://www.espn.com/wwe/story/_/id/17264856/vocal-fan-base-catalyst-evolution-wwe-women-division