How 100-Year-Old WWII Vet "Captain Tom" Tom Moore Raised Over $40 Million for NHS Relief Efforts During COVID-19: His Life in 7 Facts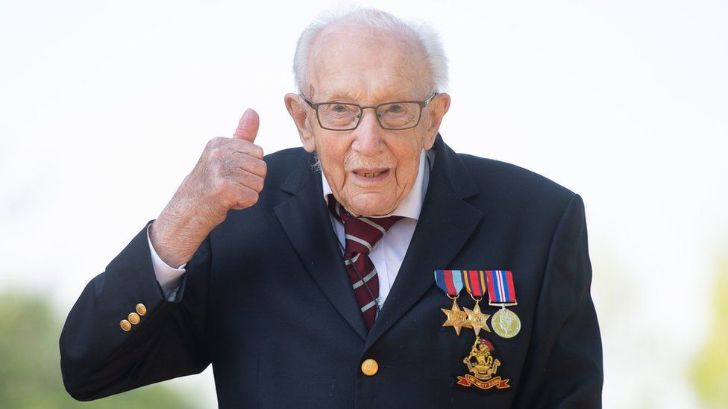 Tom Moore is a British Army veteran who served in the British Army's Royal Armoured Corps during World War II but recently has been making the rounds of the Internet as Captain Tom, the man who raised over $40 million by walking a hundred laps around his home on the days leading up to his 100th birthday.
This is the incredible story of "Captain Tom" Tom Moore told over seven facts:
7. He Served in the British Army during World War II
Moore served for the British Army during World War II. He was conscripted in 1940 and became a member of the Royal Armoured Corps on October 22, 1941.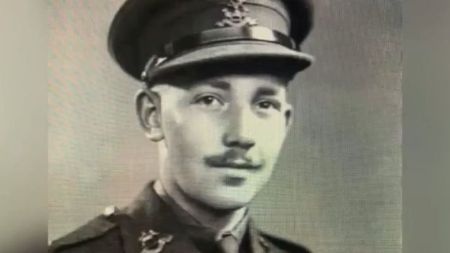 He served his tenure in India, Burma, and Sumatra during WWII, and ascended to the rank of Captain.
After his return to England from the campaign, Moore became an instructor at the Armoured Fighting Vehicle School at Bovington Camp, Dorset.
6. Father to Two Daughters with Late Wife, Pamela Moore
Moore married wife Pamela in 1968. They had two daughters together: Lucy and Hannah.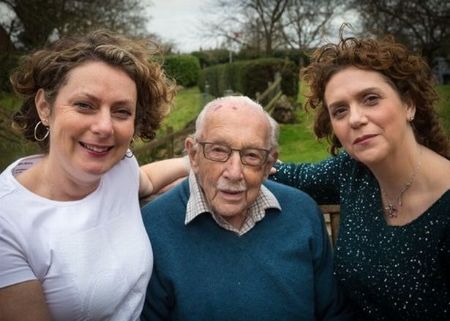 Pamela passed away in 2006, leaving behind Moore, who has lived with his daughter Hannah and her family of husband and two children since 2008.
5. Raised over $40 Million for NHS Relief Efforts Against Coronavirus
Captain Tom is a hero for more reasons than one. He was an indispensable part of the British Army Royal Armoured Corps during WWII.
Decades after his military service, he has recently been a bastion of hope and strength at a time of mass panic due to the COVID-19 global pandemic.
Tom made a pledge to walk laps around his home leading up to his 100th birthday to raise funds for NHS Charities Together. His goal was to raise £1,000 ($1222.68) so that the NHS (National Health Service) could get funded in its uphill fight for coronavirus relief.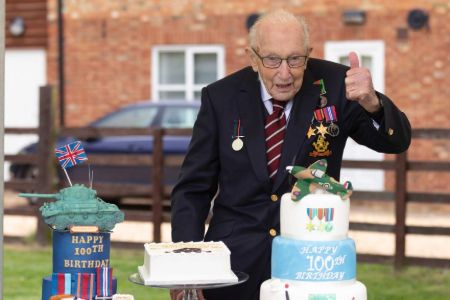 His movement caught fire all over the world and galvanized the world into donating. By the time his 100th birthday rolled around, he had raised £30 million ($36.68 million). By the eve of his 100th, the donation amount had exceeded £32.79 million ($40.09 million), thereby setting the Guinness World Record for "fundraiser raising the greatest amount of money in an individual charity walk".
4. He has Inspired Similar Fundraising Efforts
Moore is an exemplar of the spirit of paying it forward. His selflessness and still-young spirit even when getting up there in years has inspired a global movement of strength and solidarity, especially during the coronavirus pandemic.
He has inspired people like 91-year-old retired Welsh farmer, Rhythwyn Evans, who walked 91 laps of his bungalow to raise  £1,000 ($1222.68) but ended up raising  £42,000 ($51,352.77).
Others who have joined the initiative include a six-year-old boy from Bristol with spina bifida who could only recently walk and raised £195,000 ($23,8423.58) by walking ten meters and another nine-year-old boy with cerebral palsy who raised £12,000 ($14,672.22).  
3. Has a #1 UK Single One-Hit Wonder
Besides his fundraising Guinness World Record, Moore also holds the record for being "the oldest person to have a number-one single on the UK charts".
The distinction was brought forth by the singer Michael Bell singing the hit anthem "You'll Never Walk Alone" to commemorate his 100th lap.
The performance was then covered by the NHS Voices of Care Choir and featured Moore's spoken word. The single was released by Decca Records with the proceeds going to NHS charity. Within 48 hours, the single had moved 36,000 copies in the UK.
On April 24, 2020, coinciding with his 100th birthday, Moore made history by becoming the oldest person to have a #1 UK single when the song topped the weekly UK Singles Chart.
2. He is an Avid Motorcyclist
Once Moore retired from the army, he held jobs as a sales manager for a roofing materials company and a managing director for a concrete manufacturing company.  
Moore is also an avid motorcyclist who raced competitively ever since he bought his first bike when he was 13. With his Scott motorcycle, Moore racked up numerous trophies.
1. Granted Knighthood on May 20, 2020, for Coronavirus Fundraiser
For his sustained contributions from being a WWII vet to an exemplary hero of COVID-19, Moore was granted knighthood on May 20, 2020.
The Prime Minister of the UK, Boris Johnson said in a statement:
"On behalf of everyone who has been moved by his incredible story, I want to say a huge thank you. He's a true national treasure."

https://www.bbc.com/news/uk-england-beds-bucks-herts-52732300