Do You Know American Strip Dancer Robyn Delabarre Has Nearly Four Decades Of An Age-Gap Love With Christopher Quinten?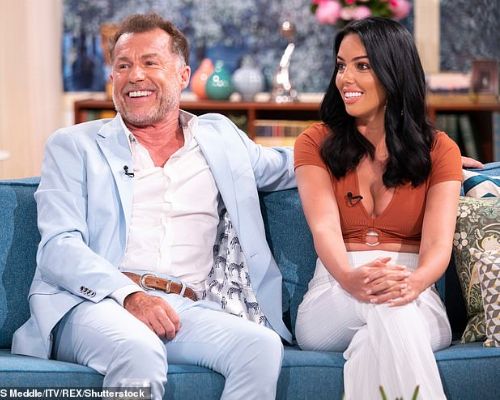 Have you ever watched a British television soap opera, Coronation Street created by Granada Television and aired on ITV since 9 December 1960? If yes! then you would definitely remember the role of Brian Tilsley which is played by none other than a British actor, Christopher Quinten from 1978 to 1989.
Well, today in this tabloid we will be going to talk about an American stripe dancer Robyn AnnaMarie Delabarre, known by her stage name Robyn Delabarre who came into the media highlight just after being romantically involved with Christopher.
Nowadays, the stunning lady worked at a nightclub, Secrets 1 Hammersmith, located in London, England. Are you interested to know how the handsome actor Quinten finally engaged with his former stripper girlfriend?
Do you know the hunk shocked his fan's followers when he got down on his knees and proposed to his match with his nipple exposed?
Further, the soap opera actor indeed gifted her the best birthday gift as the proposal happened on her birthday.
Interestingly, there are nearly four decades of an age gap between the lovey-dovey couple. However, it hasn't stopped them from loving each other. Explore more interesting facts on how the proposal took place in the article mentioned below:
Young-Old Duo First Meeting
The darlings celebrity couple, Delabarre and Quinten, had their first encounter while the gorgeous TV personality was working at Secrets 1 Hammersmith nightclub, and Chris was the venue manager in 2018.
Furthermore, after knowing each other for a while, the lovely couple became lovers and started dating in December 2018. On her 21st birthday celebration, the handsome hunk sat down on one knee and proposed to her for marriage.
Say What?
Fortunately, the lap performer accepted his proposal saying yes without thinking for a while. On that day, the TV and theatre actor gifted her a precious engagement ring while celebrating their engagement in Mykonos on 10th June 2019.
Additionally, the fiance couple toured Turkey by jet plane to whiten their teeth before their wedding ceremony in June 2019.
Unfortunately, she lost her engagement ring in Turkey which cost over $3,327, after jumping into the sea to save her partner Chris from drowning. After returning from Turkey, Mr. Quinten again proposed to her on 25th July 2019.
Nearly Four Decades Of An Age-Gap Love.
As mentioned earlier, the professional dancer Robyn is romantically involved with her soulmate, Christopher Quinten. First and foremost, the romantic pair felt difficulty revealing their confidential 42 years age gap relationship with their families, relatives, and friends.
Nevertheless, the twos kept their love life a bit secret for more than seven months from the spotlight or public eye. But later, Anna shared her intimacy with her mom.
Her mother Holly Willoughby, who is already 38, and her dad, Phillip Schofield, 40, found it difficult at first, but belatedly, they were convinced and said okay or accepted their relationship.
During an interview with the ITV channel, the heaven-made couple declared that they were dating and the dude even joked that he could be her grandfather.
As a matter of fact, the announcers stared shocked when he joked, but Robyn's family said they were okay after talking about their relationship in the media or press.
Do You Know Robyn Delabarre's Fiance, Quinten's Was Already Married Twice When They First Met?
Born on June 10, 1998, Robyn AnnaMarie's darling sweetheart, Christopher Quinten, was once married to an American talk show host, Leeza Kim Gibbons, shortly, Leeza Gibbons (born on 26 March 1957 in Hartsville, South Caroline, USA).
His ex-spouse is better known as a correspondent and co-host for Entertainment Tonight as well as for having her own syndicated daytime talk show, Leeza.
In 2013, her book Take 2 became a New York Times bestseller, and also won the Daytime Emmy for Outstanding Host in a Lifestyle or Travel program for the PBS show, My Generation.
On February 16, 2015, she was named the winner of Celebrity Apprentice, while on the show the star raised $714,000 for her charity Leeza's Care Connection.
Now coming to the topic, the former husband and wife couple first met in 1988 in New Zealand while appearing on a Telethon, and later tied their wedding knot on 10th December 1988 in a private wedding ceremony inviting most of their family, friends, relatives, and close ones.
After being in a blissful marriage, the ex-duo starred together in the movie RoboCop 2. But after one year, the two were facing difficulties in their marriage and decided to split up. As a result, they officially parted ways in 1991.
In addition to this, the ex-couple also welcomed a beautiful daughter, Jordan Alexandra Gibbons, aka Lexi, who was born in 1989 after their three years of marriage life.
Upon their divorce agreement, Leeza took care of their daughter, who's now thirty-three years old.
Robyn Delabarre's Love, Christopher Quinten's Other Marital Relationships and Past Affairs
After legally splitting from Leeza, Christopher walked down the aisle with Paula Holmes, a native of London, UK, in 1992.
Sadly, like previous marriages their wedlock, however, didn't last long, and divorced, citing irreconcilable differences.
Moreover, the former couple became parents to one adorable daughter in 1993, who's now twenty-nine years old. But her parents have successfully kept him/her far away from the limelight.
After Mrs. Holmes, Mr. Quinten was also linked with the former dancer of Peter James Stringfellow, Alison Slater. Also, the twosome became the proud parent of a beautiful daughter named Sydney Quinten in 2005.
Nevertheless, they ended their relationship without revealing the reasons behind their separation.
About Christopher Quinten's Rape Allegation
Former Coronation Street actor, Quinten, was charged with the rape allegation by a woman during their time when the girl was twenty.
Furthermore, the so-called incident appeared in a central London nightclub on 25th June 2005. Then after two months of the happening, the hunk starred at Horseferry Road Magistrates' Court on 24th August 2005.
In addition to this, the good-looking TV personality was examined and unleashed on bail pending further investigations in June 2015. The investigators often asked him from Scotland Yard's Operation Sapphire, which negotiates with despicable sexual cases.
But, they didn't find any data about the incident and cleared him of the rape allegation in June 2006.
How Rich Is Robyn Delabarre? Her Net Worth and Salary.
Not to mention Miss Delabarre is a stripe dancer who may not be as famous as her fiance, but the queen has established herself in this tricky business. The star began her career and is still one of the biggest names all around the world.
Out of her professional career as a Striper, the exotic performer has been earning a staggering fortune; as per reports, her estimated net value is around $ 1 million as of 2023.
Moreover, the entertainer receives a decent paycheck from her profession. As per PayScale, a lap dancer earns $53,938 in the United States of America.
Also, Marrie collects fruitful sums of money via ad campaigns, endorsements, and sponsorships of several fashion brands and companies. Further, there is no doubt that her net worth and salary will rise higher in the upcoming days.
Besides this, Anna seems to be a very low-key type of person, she has no social media account, so there is no clue about her house, cars, accessories, and other properties. The data about her private properties remains unveiled.
Meanwhile, her fiance, Christopher Quinten, maintains a total net value of $1.5 Million as of Feb 7, 2023, and achieved much popularity for his role in the highest-ratings episodes of Coronation Street.
There is no denying that a heaven-made couple relishes a sumptuous lifestyle on their own in the United States of America with such a breathtaking sum of money.
Box Office Collection
The accomplished lap dancer's fiance partner, Quinten's feature film, International Velvet, was one of the hits and assembled the highest ratings by the film's critics. In the same way, the movie grossed a total collection of $7,009,238.
In addition to this, Chris's life-turning film, RoboCop 2, makes $45.7 million at the U.S. box office and gathered an extra $22,505,000 from videotape rentals.
In contrast, that motion video got numerous awards with a production budget of $35 Million.
More About Robyn Delabarre's Love Christopher's Professional Career
The bold lady Robyn Anne Marie's future life partner, Christopher, initiated his on-screen career in a short movie, Motorcycle Lover Affair, in 1975. Then, the handsome hunk starred in the role of Tony the Boxer in the TV crime drama series Hazell in the year 1979.
Furthermore, the dashing fellow made his debut appearance in the romantic drama series Coronation Street, where he performed as Brian Tilsley from 1978 to 1989.
In 1989, the fellow told the casting office that he was going to move to the United States to wed his then-fiancée, American talk show host Leeza.
His final episode of Coronation Street was broadcasted on 15 February 1989, when Brian Tilsley was stabbed to death by a bunch of teenagers outside a nightclub.
Once settled in the United States, the former duo Chris and Leeza worked together on the film RoboCop 2 (in which he played a reporter). Later, he returned to Britain and was featured on various chat shows and also played Mr. Barraclough in an episode of the ITV comedy series Surgical Spirit in 1994.
In 1998, it was believed that the fellow was now traveling the country with a one-man comedy rock act, and was also performing as an after-dinner speaker. In 2000, the star briefly returned to television acting with a guest role in the BBC soap opera Doctors.
Additionally, the actor has had a long career in pantomimes and then he played Abanazar in the Consett Empire's production of Aladdin in 2010 and Ramsbottom in Snow White and the Seven Dwarfs at Oswaldtwistle Civic Theatre in 2011.
In 2016 it was reported that he now works at Stringfellows erotic nightclub in London.
More than that, the talented man has done dozens of movies and his other on-screen projects include The Young Person's Guide to Becoming a Rock Star, Sit Down for Comic Relief, Hollyoaks, and many more.
You Might Like: Bobby Flay and Kate Connelly's Relationship Timeline: Why did they Divorce?
Stay Tuned To Our Page, AmericanStarBuzz!!! To Explore More Entertaining Biographies On Your Favourite SuperStars.