Maya Van Dien- Catherine Oxenberg and Casper Van Dien's Daughter: Her Boyfriend, Net Worth, Parents, & Career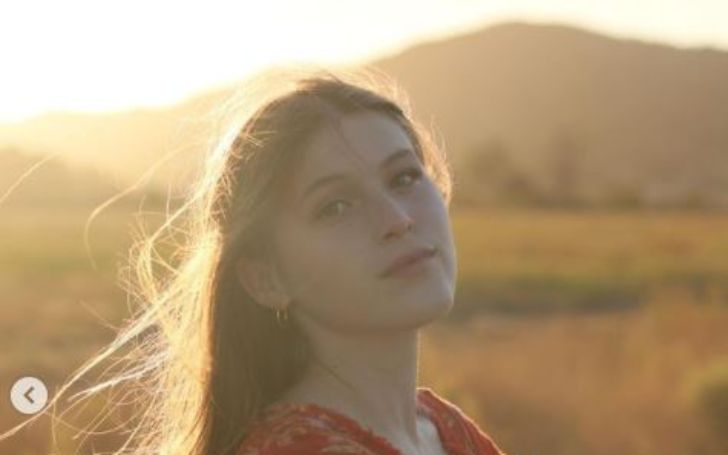 Maya Van Dien is an American actress but she is also famous for being the daughter of soap opera actors Catherine Oxenberg and Casper Van Dien.
As an actress, she is known for her work in Sleeping Beauty, The Dog Who Saved Christmas Vacation, and Kismet.
What Is Maya Van Dien's Age?
Maya was born Ananda Maya Van Dien on September 20, 2001, in Los Angeles, California, the United States.
So as of 2022, she is 20 years old and holds an American nationality.
Dien is the daughter of Casper Van Dien and Catherine Oxenberg. She was raised alongside her younger sister Celeste Van Dien.
Also, she has half-siblings named Cappy Van Dien, Grace Van Dien, and India Oxenberg.
What's her Ethnicity?
Maya Van Dien's father is descended from an old Dutch family and has other heritages of Swedish, French, and English.
Her mother has mixed ancestry of Ashkenazi Jewish, Serbian, Russian, Swedish, Finnish-Swedish, European Royal, German, and Finnish ethnicity.
Also see: Who Is Malese Jow? Net worth, Age, Height & Instagram
Who Is Maya Van Dien Dating?
Maya Van Dien, 19, is currently in a dating relationship with a mysterious guy. On December 24, 2019, she posted the picture with her boyfriend and captioned it, "1-year anniversary dinner with my love".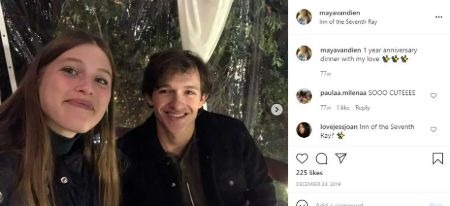 As of now the pair has been together for more than 2 and a half years and is still in a romantic relationship.
As she is not so an active user of the Instagram platform, there is no more detail regarding her personal life.
How Much Is Maya Van Dien's Net Worth?
Maya Van Dien, who has just three acting credits in her name reportedly holds a net worth of around $100 thousand as of 2022 from her career.
On the other hand, she is leading a lavish lifestyle from her parent's worth as her father holds $7 million and her mother holds $25 million, as of Celebrity Net Worth.
Van Dien started her acting career at the age of four after appearing in the TV Series, I Married a Princess.
After five years, she was cast in the TV movie The Dog Who Saved Christmas Vacation as Randy's Daughter. Also, she appeared in the movie named Sleeping Beauty and Kismet.
Most recently she has been part of the documentary The Passion as Ballet Dancer alongside Coco Lupo, Marielle Mondeville, Charlie Clark, Isabella Howe, and Leah Issac.
Details about her Parents
Maya Van Dien was born to Casper Van Dien and Catherine Oxenberg.
Her father Casper is an actor best know for starring in Starship Troopers as Johnny Rico. He was born on December 18, 1968 (age 53) in Milton, Florida, U.S.
His father Casper Robert Van Dien Sr., was a U.S. Navy Commander and fighter pilot while his mother Diane (née Morrow) was a nursery school teacher.
Maya's mother Catherine is popular for her appearance in the 1980s prime-time soap opera Dynasty.
Besides, she is also popular for playing the role of Diana, Princess of Wales in The Royal Romance of Charles and Diana and Charles and Diana: Unhappily Ever After.
She is the daughter of Princess Elizabeth of Yugoslavia and Howard Oxenberg. She was born on September 22, 1961 (age 60) in New York City, U.S.
Parents Married Life: Why did they Divorce?
Casper Van Dien married Catherine Oxenberg as his second wife on May 8, 1999, at the Graceland Wedding Chapel in Las Vegas, Nevada.
They first met on the set of the 1999 TV movie The Collectors and also worked in The Omega Code.
The couple together has two daughters: Amanda Maya Van Dien, born in 2001, and Celeste Alma Van Dien, born in 2003. They split in 2015 but the reason is still unknown.
After the divorce, her father tied the knot with Jennifer Wenger in June 2018.
Other Marital Affairs of her Parents
Earlier, Casper was married to Carrie Mitchum from 1993 to 1997. They together have two children, a daughter named Grace Van Dien, who is an actress, and a son.
On the other hand, her mother has a daughter India Riven Oxenberg, born in June 1991, from her affair with drug smuggler William Weitz Shaffer.
Catherine Oxenberg then married Robert Evans, in Beverly Hills, California, on July 12, 1998, which ended only after 9 days.
She reportedly is single after her divorce from Casper.