Vlada Zinchenko- Oleksandr Zinchenko's Wife (Wiki, Age, Husband, Children)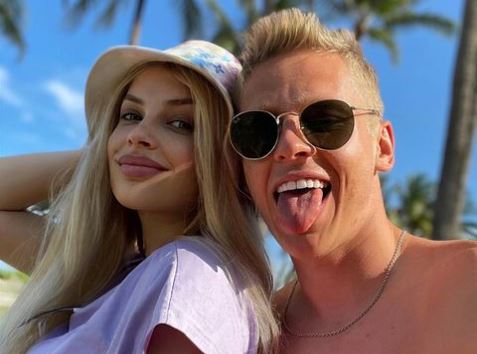 Vlada Zinchenko is a TV presenter and a journalist who is more famous as the wife of Oleksandr Zinchenko, a Ukrainian professional football player. Her husband Oleksandr plays as a defender or midfielder for Premier League club Arsenal and the Ukraine national team.
Vlada is also an ambassador for a famous multinational corporation Puma which designs and manufactures athletic and casual footwear.
She was a known face and frequently appeared on TV but her relationship with Arsenal's defender increased her fame and is now a hot Premier League WAG. How did Vlada and Oleksandr meet?
Read the article till the end to know about their affair, marriage, children, and all the other details about the wife of a football star.
Vlada Zinchenko's Bio, and Age
Vlada Zinchenko was born Vlada Sedan on October 20, 1995, in Vinnytsia, Ukraine. She holds Ukrainian citizenship.
Vlada is very private about her personal life and she hasn't revealed any information about her family. Her family name is Sedan, she changed her last name to Zinchenko when she got married to Oleksandr.
She might have also grown up with siblings, and cousins. But she has not revealed their identity.
Likewise, Vlada completed all her education in Ukraine. She attended her high school in School-Gymnasium №2 Vinnytsia and enrolled in the Taras Shevchenko National University of Kyiv.
The 26-year-old Vlada is a young passionate woman, a supporting wife, a loving daughter, and a proud mother. She also plays the piano in her spare time.
Vlada Zinchenko's Career
Other than being a journalist and presenter, Vlada is also a model and a YouTuber. She films overall all the experiences with her husband, and daughter and posts everything on the channel.
Growing up, she was always comfortable around cameras. No wonder she has become a wonderful television host.
She made her first debut on TV hosting on the television Channel, Football 1/2. Her hardworking nature quickly accelerated and made her have worked with major TV channels in Ukraine.
She then became one of the most respected TV hosts and got a chance to interview footballers like Christiano Ronaldo, Kyle Walker, etc.
As a model, she started it as a hobby. However, she was naturally so good at it that she made a whole career out of it.
Who is Vlada Zinchenko's partner?
Vlada is happily married to a versatile football player, Oleksandr Zinchenko. She is a year older than Oleksandr. They must have met and dated before they got married.
In August 2020, Vlada walked down the aisle with her soulmate Oleksandr. They had a wonderful wedding in presence of their friends and family.
Vlada and Oleksandr started dating in 2019 and first came public with their relationship following Ukraine's 5-0 win over Serbia in June 2019. He kissed her on the cheek and hinted at their affair during the post-match conference.
He proposed to her in 70,000-capacity Olympic Stadium in Kiev in front of a heart-shaped display of red roses. They married after a year of their engagement.
However, there is no information regarding how they met.
Football WAG: Sarah Schmidt- Hot WAG of Leeds star Tyler Adams (Wiki, Age, Family, Affair, Instagram, Height)
How many children do Oleksandr and Vlada Zinchenko have?
Currently, Vlada and Oleksandr have a single child together. On August 1, 2021, Vlada gave birth to a cute baby girl. They named her Eva. They just celebrated their baby's first birthday some days ago.
She is a pandemic baby. So, the parents got to spend a wonderful journey with their daughter.
On the other hand, the power couple also has two furbabies ie. dogs. Both of the dogs are of the same breed, Frenchie Bulldog. However, their names are also not available on the internet.
She seems to love them equally.
Oleksandr Zinchenko's Wiki and Professional Career
On 15 December 1996, Oleksandr was born in Radomyshl, Zhytomyr Oblast. He moved with his parents to Russia due to the war in Donbas.
In 2015, he started his football career in the Russian Premier League by making a debut for Ufa on 20 March 2015 in a match against FC Krasnodar.
Likewise, On 4 July 2016, Zinchenko signed for Premier League club Manchester City.
Zinchenko scored his first goal for Manchester City in the EFL Cup semi-final against Burton Albion on 9 January 2019, a 9–0 home win. And signed a new contract with the club, to keep him with them until 2024.
And recently On 22 July 2022, Zinchenko signed for Premier League club Arsenal.
Zinchenko started his career as an attacking midfielder but eventually converted into a left-back or wing-back under Pep Guardiola.
Since then, he has helped the team win an FA Cup, four League Cups, and four Premier League championships. Zinchenko, a full member of the Ukrainian national team since 2015, represents his nation at UEFA Euro 2020.
How rich is Vlada Zinchenko?
Even though Vlada's total net worth is not available yet. But with all the work she has done and with all the hardship, she must have accumulated a total net worth of $2 million as of 2022.
Her major source of Income is her TV hosting career, Journalism, Modeling career, Youtube, Instagram, and various brand sponsorship.
Being an ambassador for Puma, Vlada must live a luxurious life with her husband.
On the other hand, her husband is able to accumulate a total net worth of $5 million as of 2022. His major source of income is his football career, brand endorsement, sponsorship, etc.
He signed for Arsenal for almost £30 million, potentially rising to £32 million.
Earlier, Zinchenko earned £20,000 per week and an annual income of £1,040,000 from Manchester City.
Vlada Zinchenko's Social Media
Vlada is available on various social media platforms. As a model, host, and TV personality, you can find her on Instagram as @v.lada_sedan.
She has over 616 K followers on Instagram and follows over a hundred different accounts on Instagram. She is also verified as a celebrity on it.
Likewise, her Youtube channel is Влада Седан. It has over 87.4K subscribers on it. Her last upload on Youtube was a month ago.
On the other hand, Vlada's husband Oleksandr is available on Instagram as @zinchenko_96. He has over 1.8 Million followers on Instagram and follows over 150 different accounts.
Some facts about Vlada Zinchenko
Even though Vlada has lived most of her life in front of the camera, she has still managed to keep so many things private to herself.
Vlada was heartbroken when thousands of mothers and their children were separated from each other.
Vlada's zodiac sign is Libra, which means she is a good listener. So, her job goes perfectly with her zodiac sign.
Vlada Sedan is 55 kg (5 ft 7 in) tall and 1.74 m tall (121 lbs) and has blue eyes and blonde hair.
Read Next: Annie Kilner- Kyle Walker's Wife (Bio, Age, Affair, Married, Children, Instagram)