Know about Federico Valverde's Son Benicio Valverde: How old is he?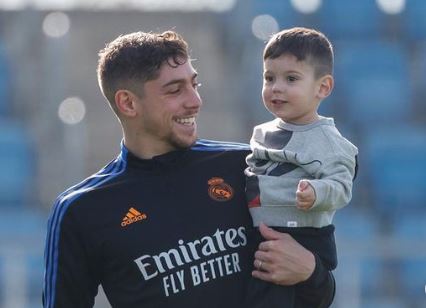 Benicio Valverde is the son of Uruguayan footballer Federico Valverde and his partner, Mina Bonino.
His father Fede Valverde is a professional football player who currently plays for the Spanis club Real Madrid and the Uruguayan National Team as a midfielder/ winger.
Benicio's mother Mina is an Argentine journalist who has been dating his father Valverde since 2019. His parents haven't married yet.
Benicio Valverde Bio and Age
Benicio is the only child of Federico Valverde and his partner, Mina Bonino. He was born on February 20, 2020.
He is 2 years old as of November 2022.
Born to an Uruguayan father and an Argentine mother, he is of mixed ancestry.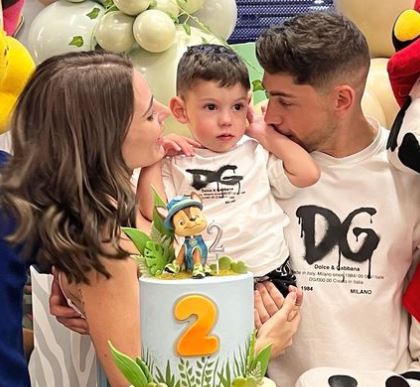 Who are his Parents?
His father Fede Valverde is one of the rising football players who currently plays for La Liga club Real Madrid.
He is one of the best players at the moment and is quite popular for his long-range goals and tireless nature. Besides, he can play at any position.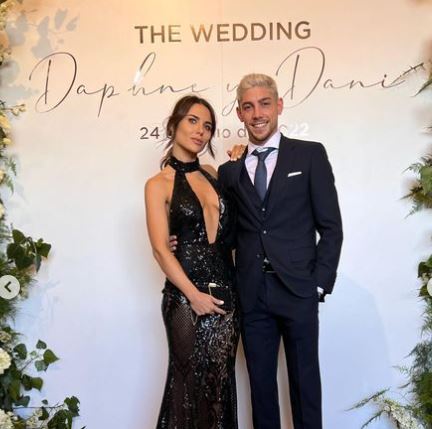 Benicio's mother Mina is a journalist and TV presenter who has worked on channel 13 and TyC Sports.
She is popular for presenting the TV program Debo decir where she served from 2016 to 2017.
His Parents' Relationship: When will they Marry?
His mother Mina Bonino and father Fede Valverde knew each other through social media. In 2018, they started talking randomly.
They developed feelings for each other and Valverde invited Mina to Spain to watch his game.
Without thinking twice, Bonino went to Spain to meet Valverde and stayed there for a couple of days.
They officially started their relationship in late 2018 and later came public in May 2019.
Mina also moved to Spain to be together with Fede. The pair became the parents of a son Benicio Valverde, on February 20, 2020.
Soon after the birth, Mina announced the news through Instagram and wrote:
After 14 hours of labor, with the last three very difficult, I am convinced that one draws strength from where one does not have when bringing a child into the world, and all the pain was worth it.
Thanks thanks@bmummadridJackie and Abi because nothing would have been possible without their support, they were unconditional and I am happy to have found them (in their stories you can see how the delivery was developing during the day)
On 02/20/2020 at 00:02 Benicio was born Valverde in Madrid for a very difficult but successful natural birth 

We love you son. I hope you know how expected you were and all the desire we had to meet you. To you dad, who are my partner, my husband, who was unconditionally by my side and while I was pushing you told me 'let's go up, toothless, it's coming out'
Here is our award and this is your best goal 
The couple is raising their child well and often spends time together.
Benicio Valverde's Lifestyle and Parents' Net worth
Valverde Jr. is getting good care and has been living a luxurious life with his father's earnings.
Federico currently earns €160,000 a week and his annual salary is reported to be €8.3 Million. His net worth is estimated to be $20 Million.
Social Media
Benicio's mother Mina Bonino is a social media influencer and is very popular on Instagram. She has 770k on her Instagram @minabonino.
Likewise, his father Fede Valverde has more than 7.5 Million fans on his Instagram handle @fedevalverde.