How much do Kelly Evans make? Who Is Her Husband?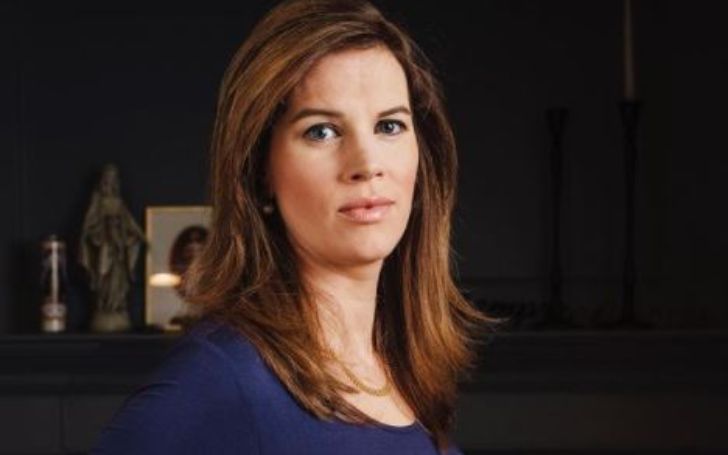 Kelly Evans is prominent among the people as an American journalist and co-anchor of Power Lunch on the CNBC business news channel. Moreover, she is most recognized as an economics reporter at 'The Wall Street Journal' where she wrote the 'Ahead of the Tapes' column. 
Early Life Information Of Kelly Evans
American journalist Kelly Evans was born on July 17, 1985, in Hartford, Connecticut under the birth sign cancer.
Kelly moved to Lexington, Virginia, Rock-bridge County, and was raised there by her parents alongside her sister. Besides that, she is the daughter of Dave Evans however her mother's information is not yet disclosed.
Mentioning Kelly's education, she joined Rockbridge County High School and later attended Washington and Lee University where she was merited with George Washington Honor Scholar which earned her full-academic scholarship and graduated magna cum laude with a bachelor's degree in business journalism.
Aside from that, at Rockbridge County High School she was also passionate about eight letters in lacrosse, cross country, and track.
The Career of Kelly Evans
Kelly started her career professionally at the 'Wall Street Journal' in 2007, where she started issuing articles related to real estate and economics and broadcasting for the Global Economics Bureau.
Soon, Kelly started working there as a writer of the column 'Ahead of the Tape' and 'Heard on the Street' one of the best influential and popular sections of the publication. Aside from that, Evans also was one of the adjudicators for a 2012 Republican Primary debate in Myrtle Beach, South Carolina.
Apart from only writing in 'The Wall Street' of Journal she also appeared on different programs as a small guest. Also, some of the networks where she appeared as a guest include Fox News, Russia Today, and CBS, which helped her extensively to further her career as a journalist.
Also in 2012, she joined CNBC based in London, England, and was assigned as the host of CNBC Europe's 'Worldwide Exchange' taking over host Ern Burnett. Following in 2013, Kelly moved to CNBC's headquarters in New Jersey, where she was offered as co-anchor for 'Closing Bell'.
Apart from that, Evans also represented in other CNBC shows including the network's 'Squawk on the Street' and 'Business Day Programming'.
Relationship of Kelly Evans
CNBC journalist Kelly is a married woman and she tied her knot with Eric Chemi. Also, talking about her husband Eric Chemi is CNBC's sports business reporter.
Furthermore, Chemi graduated with a degree in Electrical and Computer Science from the Massachusetts Institute of Technology. And in 2014, Chemi joined CNBC as a senior editor at broad covering industries and sectors.
Kelly and Eric worked together at CNBC where the two love birds soon started dating each other. The duo seems very happy with each other's company.
Not only a husband and wife, as of now the couple are the parents of their child. The lovebirds first welcomed their child on July 5, 2018, but they have not mentioned his/her name which shows Kevin and Eric are quite secretive towards their personal love life.
Also, they have welcomed their second son later in 2020.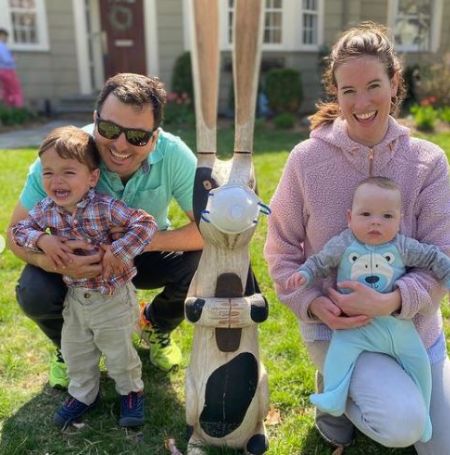 Net Worth of Kelly Evans
As of 2023, Kelly's total net worth is estimated to be around $2.5 million which she was able to accumulate as a journalist and anchoring. Through her dedication and devotion, she can maintain a pretty balance in her career. 
Apart from that, Kelly earns $58,964 and $36,986 annually as a news anchor and journalist which helped her amass a good amount of money. Additionally, she is married to journalist Eric Chemi and shares a total net worth of around $3 million.
Check This: Welsh Actor Michael Sheen: Net Worth, Salary, Wife, And Children