Elaine Starchuk- Tragedy of Tommy Lee's First Wife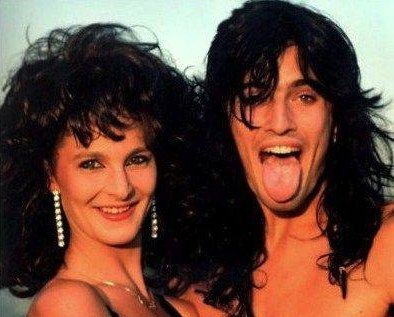 Elaine Starchuk is the ex-wife of Tommy Lee. They were married for only seven days. She is a former Canadian model and dancer. Furthermore, she is a former Penthouse and Playboy model.
Even though she had a very short-lived marital relationship, the couple dated for a while before they tied the knot.
Elaine achieved some renown despite not having a particularly prosperous career, particularly as a result of her marriage to one of the most famous rock musicians.
Since the divorce, Elaine is happily living her life by discovering Yoga in her life. Let's continue to read the article to know about Elaine's childhood, family, parents, education, profession, net worth, married life, children, social media, height, weight, and other facts.
Elaine Starchuk Wiki, and Age
On 4 April 1964, Elaine was born in Vancouver, British Colombia Canada to her loving parents.
Her birth name is Elaine Margaret Starchuk and was born under the birth sign Aries. As of 2022, she is 58 years old.
She came to the limelight after the divorce took place. And since time passed, people stopped talking about how and that is when she started her career as a teacher.
In 2016, after being in a car accident she took a break from her teaching career.
She was hit by an SUV that crashed into a Vancouver-based Langley deli. According to the sources, she was forced against the deli wall, which fell around her, and she thought her ribs were fractured.
The automobile was being driven by an elderly guy who lost control of it, according to witnesses.
People then took her to Royal Columbian Hospital, she checked herself out but was still suffering from a sore neck, arms, and hands. In the upcoming period, she was awarded more than $400,000 in compensation.
Elaine Starchuk Career
In 1979, Elaine moved to Los Angeles to pursue her passion for modeling. At the age of 18, she started her career, which led her to Playboy magazine.
As a model, she has worked with some prominent magazines like Playboy, Penthouse Magazine Miss Nude BC, and a few more. She has even been featured on the cover of Penthouse Magazine.
Moreover, With her growing popularity, Elain also worked as the lash extensions model for Avril Lavigne's lashes. Moreover, she also worked in the film Transformers.
She is also the CEO and founder of her eyelash brand Enlightened Eyelash Academy.
Who is Elaine's husband?
For now, Elaine does not seem to single. However, she was married to her ex-husband Tommy Lee in the past.
However, In December 1984, the couple exchanged their vows after dating for two years. The couple first met back in 1982 when she was still struggling to make it into the modeling industry.
Unfortunately, their marriage was very short-lived as they separated after a week of their wedding in December 1984. The divorce was finalized in 1985.
Tommy is an American musician and founding member of the heavy metal band Mötley Crüe.
Her relationship with Tommy is one of her her most talked affairs. They didn't have any children together.
Apart from Tommy, Elaine also married Todd Marshall. However, they decided to call it off after four years of marriage.
As for Tommy, he was in a marital relationship with so many women. But with Pamela Anderson, he went on to have two children.
Also Read: Vanya Seager- Robson Green's Ex-Wife: Where is she now?
Does Elaine have Children?
Despite being in a relationship with so many guys, Elaine does not share children with any of her exes.
However, She had a cat, who died in 2019. She was so sad because of her cat's death that she started raising her voice against animal cruelty.
On the other hand, Thomas Lee, her ex-husband has two kids. On 5 June 1996, Tommy and Pamela welcomed their first son. They named him Brandon Thomas Lee. He is now all grown up and 26 years old.
Brandon is an actor and producer, known for Cosmic Sin
They became parents of their second son 0n 27 December 1997. They named him Dylan Jagger Lee. He is now all grown up and 25 years old.
Dylan is an American model and musician. Lee began his modeling career walking in Saint Laurent's 2016 show.
Enlightened Lashes
Elaine is the founder & CEO of Enlightened Lashes at present. Enlightened Lashes is a premier lash company, which offers revolutionary new application techniques and programs.
On November 13, 2006, she began to work but after an accident in 2013, she is no longer able to apply it herself.
She started her company alongside three people in the British Columbia area, she is the first woman to teach eyelash extensions in Canada.
As of 2022, her brand is available in every corner of the world including Asia and Europe.
How rich is Elaine Starchuk?
As of 2022, Elaine has been able to accumulate a total net worth of 550 K USD. Her major source of income is her modeling career, dancing career, and business venture.
In 2016, after a meeting with an accident, Starchuk got $400,000 as compensation.
Where is Elaine Starchuk now?
Elaine is living her life in a sense of peace and happiness. She is now living in her hometown alongside her family and friends.
She found a new meaning in her life with Yoga. Elaine seems to be very happy with her new lifestyle.
Elaine Starchuk's Social Media
Starchuk is a wonderful person. She shares almost everything on her social media platform and from her posts, we can see that she is so much happy and so much alive.
Despite the difficulty she faced during her accident, Elaine has overcome her fear. You can find her on Instagram, Twitter, Facebook, etc.
You can find her on Facebook as Elaine Starchuk. She has over 1.4K followers on her Facebook.
On the other hand, You can find her on Instagram as @_elainestarchuk. On Instagram, She follows 27 different accounts which include various celebrities, brands, TV personalities, families, friends, etc. And she has over 70 followers on Instagram as of 2022.
She is most active on Facebook where she comes up with several enlightening posts every now and then. She is rarely active on Twitter with over 136 followers as of 2020.
Some facts about Elaine Starchuk
Starchuk is a vegan and an animal rights activist. To stop the ongoing cruelty against animals, she introduced high-quality synthetic fiber lashes, Faux Mink.
When the attractive model first entered the glamor industry in the 1980s, she already had a breast implant. But in December 2013, she discovers that the accident tore her implants, forcing her to have surgery.
While recovering from an accident, she suffered from several other post-traumatic stress disorders and had chronic pain.
Apart from Todd Marshall and Tommy Lee, Elaine also date a guy named Anders Erikson for five years.
Trending Topic: Judy Helkenberg- Tragedy of Gary Busey's Ex-wife