Who is Anthony Field? Age, Height, Bio, Net Worth, Earning, Wife, & Children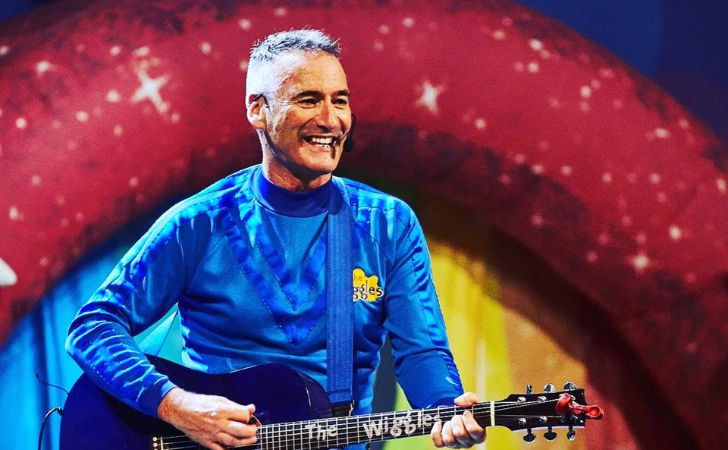 Anthony Donald Joseph Field is an Australian musician, songwriter, actor, and producer who is well-known as a member of the children's group the Wiggles and the popular 80s band, The Cockroaches.
Short Biography: Age, Height, Parents, & Siblings
Field was born on May 8, 1963, in Kellyville, New South Wales, Australia, to parents Marie Field and John Patrick Field. He is currently 57 years old and stands 6 ft (1.83 m) tall. His father was a suburban chemist and his mother supervised the kids learning at least one musical instrument.
The youngest of seven children, Anthony grew up in north-western Sydney with his siblings. He went to an all-boys boarding school, St. Joseph's College, alongside his older brother, John Field and Paul Field. He later enrolled at Macquarie University.
Anthony Field Net Worth 2021
Field has a net worth of $20 million as of 2021. He garnered huge popularity as part of the popular Australian music group, The Cockroaches in the 80s and the children's group, The Wiggles. The group started their journey in 1979 while still studying at St. Joseph's College.
The record sales of the album The Cockroaches was approximately 70 thousand copies, through which they made around $91,000. The Wiggles, on the other hand, recorded their first album in 1991, selling 100,000 copies The band earned $832,000 from selling 640 thousand copies of the album Yummy Yummy in 1994.
As part of The Wiggles, Field has released 41 albums. Their 1995 album Big Red Car and 1996 albums Wake Up Jeff! and Wiggly, Wiggly Christmas each sold approximately 140 thousand copies, earning a total of $546,000. The 57-year-old was named Bachelor of the Year by Cleo Magazine in 1999. He became the ambassador for the Australian Spinal Research Foundation and spokesman for Anaphylaxis Australia in 2011.
Who is Anthony Field married to? Wife & Children
Field is married to his long-time girlfriend, Michaela Patisteas, a former dancer. Her family owned Griffiths Coffee in Melbourne. The two tied the knot on May 3, 2003, and have been together ever since. Field and his wife have three children: two daughters and a son.
They welcomed their first child, daughter Lucia Maria Angela Field on February 2, 2004. The couple's second child, daughter Marie Claire Field was born October 1, 2005, and their third child, son Antonio Carlos was born on April 13, 2007.