Meet Lara Yunaska, Daughter-In-Law Of Donald Trump: Husband, Wedding, Net Worth, Kids, And Family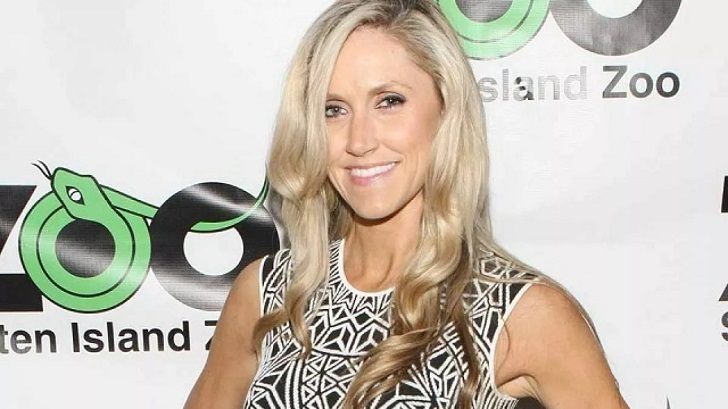 Lara Yunaska, also known as Lara Lea Yunaska, is a former American television producer who was also a senior advisor for President Trump's 2020 re-election campaign. The daughter-in-law of Trump is also the producer and host of Trump's production, Real news update.
Early Life And Family
Lara Yunaska was born on October 12, 1982, in North Carolina to Robert Luke Yunaska and Ann Sykes. Born and raised in Wilmington, her parents were respectable members of their local community.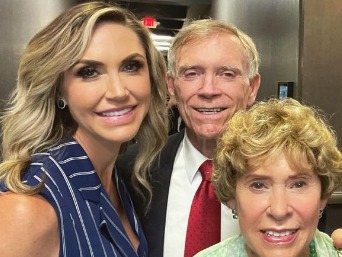 The one-time TV producer obtained her degrees in communications from North Carolina State University before obtaining another degree in pastry arts from the acclaimed French Culinary Institute in New York.
She also spent some of her college years in France at the L'Universite Catholique de Lille.
As of August 2021, she is at the age of 38 and stands at the height of 5 feet 9 inches or 180cm.
Married Life With Donald Trump's Son Eric Trump: Wedding, Family, And Children
Yunaska is married to an American businessman Eric Trump. The duo reportedly started dating in 2008. They first met through mutual friends and bonded over the shared love for politics and charities.
The couple got engaged in July 2013 after Eric popped the question with a ring from his sister Ivanka Trump's Jewelry line.
They exchanged wedding vows in 2014 in a large ceremony at Trump's Mara-Lago in palm beach, Florida- the exact place where Donald married Melania in 2006.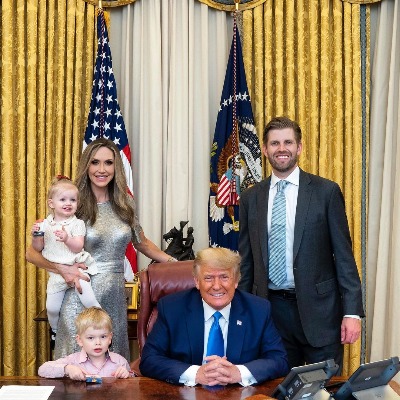 It was a major event where the entire Trump family was in attendance. In the event, Donald Trump Jr served as a best man while Ivanka Trump was a bridesmaid. Likewise, Ivanka's daughter Arabella was a flower girl, and her husband, Jared Kushner, was the officiant.
The marriage ceremony had an impressive guest list of more than 400 people, including radio personality Elvis Duran and former Real Housewives of New York cast member Jill Zarin.
During the wedding, Lara had to hide the bandages from the accident two weeks before the ceremony. She broke both her wrists in a horseback riding accident just before the major event. The TV presenter elegantly hid the cast with fingerless gloves.
Lara and Eric welcomed their first child, Eric "Luke" Trump, on September 12, 2017.
Two years later, on August 19, 2019, they welcomed another child, Carolina Dorothy Trump.
Career Highlights
Lara Yunaska Trump worked as a personal trainer during her studies. A keen athlete and marathon runner, Lara was always looking to support herself despite coming from a wealthy family. She began her professional career as an intern for several local news stations during her college years.
Later in 2012, she joined the TV news magazine Inside Edition as a story coordinator. In 2016, she was promoted to the associate producer role.
However, following her marriage to Eric, she quit the job and started working alongside her father-in-law, the then president of the USA.
In late March 2017, she was the senior advisor to the Trump presidential election committee. She also worked on digital fundraising and merchandising efforts.
The mother of two also played a substantial role as a senior advisor for Trump's 2020 re-election campaign against Joe Biden.
Besides appearing as a spokesperson for Trump, she also hosted the Real news Update- the Trump administration's youtube channel.
How Much Does Lara Yunaska Earn? Net Worth And Assets
If we believe the sources, Lara's net worth is estimated at $10 million as of 2021. She was paid $180,000 a year during Trump's re-election campaign in 2020, and before that, she reportedly earned $100k annually as a producer at CBS.
On the other hand, her husband's riches are estimated at $300 million. In addition, the couple owns two luxury homes, one of them is a massive estate that spans 50,000 square feet in Briarcliff Manor, in Westchester, which Donald bought in 1996 for $7.5 million. Similarly, the duo has $350,000 worth of two apartments at the Trump Park East building.
Charity And Love For Animals
Apart from the TV producer and prominent Trump family member, Lara is a self-proclaimed animal lover.
The 38-year-old is big on animal advocacy and has worked with numerous animal rescue centers. She is the ambassador for the North Shore Animal League of Africa. It is the largest animal rescue and adoption program in the world that restricts the killing of animals.
Besides, she has also worked with Paws Place Animal rescue in North Carolina and the Animal Aid USA program. Further, she also adopted two beagles from the rescue and adoption program.
Reportedly, she has spent $2 million on dog rescue charities for the Goodwill of dogs.
On the contrary, her husband Eric is fond of hunting, which often garners huge backlash for her, especially on Twitter. Her reports on animal rights activism are often criticized with pictures of Eric and his brothers hunting animals.
Also see: Otlile Mabuse, Holli Dempsey, Ann Dowd