Tragedy of Anna Lou Castoldi (Asia Argento's Daughter)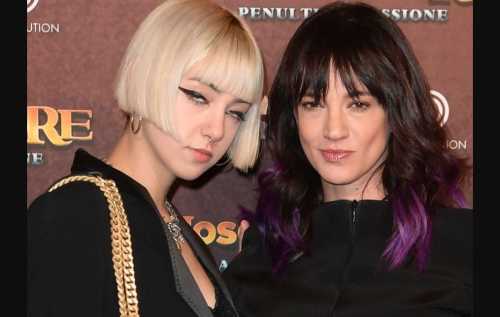 Quick Facts of Anna Lou Castoldi
| | |
| --- | --- |
| Full Name | Anna Lou Castoldi |
| Birthplace | Lugano, Ticino, Switzerland |
| Parents | Asia Argento and Morgan Castoldi |
| Ethnicity | White |
| Religion | Christian |
| Profession | Actress |
| Nationality | Swiss |
| Marital Status | Unmarried |
| Siblings | Lara Castoldi, Maria Eco Castoldi, Nicola Giovanni Civetta |
View
Anna Lou Castoldi is an actress popular for movies such as Misunderstood, Baby, and Les Rossignols, and a Social Media Personality. She is the daughter of famous Italian Actress, Asia Argento and roll musician Marco Castoldi popular as Morgan.
Since birth, she was in the eye of the public and the media. However, she rose to fame after being cast for Netflix's Baby.
Anna Lou Castoldi's Wikipedia is not available. Let's scroll through the article till the end to know more about Anna which includes her relationship with her parents, Schooling, Net Worth, and many more.
Anna Lou Castoldi's Wiki, Bio, and Age
On 20 June 2001, Anna was born in Lugano, Ticino, Switzerland to Asia Argento and Marco Castoldi. She holds Swiss citizenship.
Her paternal grandparents are Luciana Castoldi and Mario Castoldi while her maternal grandparents are Dario Argento and Daria Nicolodi.
Asia named Anna after her half-sister who apparently died in a motorcycle accident.
She has three step-siblings, Lara Castoldi, and Maria Eco Castoldi from her father's side and Nicola Giovanni Civetta from her mother's side.
She pursued her career in the Italian movie industry while still in High School, in Lugano, Ticino, Switzerland.
Anna has her nose pierced and has tons of tattoos on her body. Currently, she has bangs as her haircut.
Likewise, 22-year-old Anna loves to travel in her vacant time.
Anna was recently found in a magazine's headline for smearing a public bus in Rome. She was with her brother, Nicola.
In an interview, Asia said, "Anna Lou is better than I was at her age. I don't control it, but I hover. There are peer discussions, although sometimes it is wrong because it takes authority."
Anna Lou Castoldi's Parents' Relationship History
Anna's mother Asia is a famous actress and filmmaker. Her father, Morgan, on the other hand, is an Italian singer-songwriter, musician, and multi-instrumentalist.
Marco was born on 23 December 1972 in Milan, Italy. He is popular for being the first founding member of the band Bluvertigo.
The two prolific artists began dating in the early 2000s. They were never married but became the parents of their daughter Anna in 2001.
The pair later separated after a very difficult relationship but the reason behind their split is still a mystery.
Anna's mother then married film director Michele Civetta on 27 August 2008 in Arezzo. She has a son named Nicola Giovanni, born in 2008 in Rome, from her marriage with Michele. She later divorced him in 2013.
Moreover, Asia reportedly had a fling with Anthony Bourdain in 2016 during the production of the Rome episode of Parts Unknown.
He has a daughter named Lara Castoldi, who was born in his relationship with Jessica Mazzoli.
Asia Argento's Wiki and Professional Career
On 20 September 1975, Asia was born in Rome to Dario Argento and Daria Nicolodi. Her father Dario was an Italian filmmaker and her mother was an Italian actress.
Likewise, her grandfather, Alfredo Casella was a composer, pianist, and conductor, and her grandmother was a French pianist.
At the age of 8, Argento released a book of poetry. When she was 14 years old, she fled her house.
She made her professional debut in acting at the age of 9.
She has appeared in several of her father's films, and her parts in the films XXX (2002), Land of the Dead (2005), and Marie Antoinette helped her break into the public eye (2006).
Queen Margot (1994), Let's Not Keep in Touch (1994), Traveling Companion (1996), Last Days (2005), and Islands are some of her other well-known acting roles (2011).
Furthermore, Argento has won numerous honors, including three Italian Golden Globes and two David di Donatello awards for Best Actress. The Heart Is Deceitful Above All Things (2004) and Misunderstood are two of the films she has directed (2014).
She rose to prominence as a "#MeToo" movement leader following the Weinstein scandal in 2017. The allegations that Argento raped actor Jimmy Bennett in 2013 when he was 17 and she was 37, were published in The New York Times in August 2018.
She speaks fluent English, French, and Italian.
Anna Lou Castoldi's Social Media
Anna is available on Instagram. You can find her on Instagram as @sexydying. She has over 52.6 K followers and over she follows over 920 different accounts.
Likewise, her mother, Asia is also available on Instagram. You can find her on it as @asiaargento. She has over 677K followers and follows over 677 different accounts as of 2022.
Unlike her mother, Anna is not verified as a celebrity on Instagram.
Some facts about Anna Lou Castoldi
Anna is able to accumulate a total net worth of $2 million as of 2022.
She has modeled for various runway fashion shows. Recently, she walked for Simon Cracker's show.
Asia's connection with her father is not particularly tight. She has stated that she did not have a joyful childhood as a result of his absence when she was a child.
Read Next: Leah Leann Shirley- Teen Mom Amber Portwood's Daughter: Who is her Father?